Too Hot to Handle: How to Prep Your Home for Summer
by Guest on Mar 26, 2019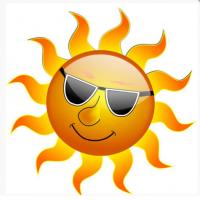 Most of us crave that elusive sun, but when it does come around there are umpteen additional considerations that enter the picture. Of course, if you live in a region that basks in year-long sunshine this will not be the case, but for most of us, the sun is not always as favorable as we might imagine.
As the title of today's post may have given away, we are now going to focus on your home. Ultimately, when the temperatures are high, if your home isn't adequately prepared for the warmer season it can turn into something of a nightmare.
This is the reason behind today's post. We will now dive into some of how you can prep your home for summer and enjoy the warmer months much more in the process.
Prepare your air conditioning system
Suffice to say, air conditioning systems don't tend to be used all year round. It means that when the time does come to cool down, they need to get up and running again.
This is usually where problems occur. Whether it's because the system hasn't been used for months or because debris has just started to build up in it, it's important to take action before the weather does get to its peak. Turn to an HVAC contractor in Atlanta or your area of choice before demand starts to soar.
Don't fool your air conditioner thermostat
Staying on the same topic of air conditioning systems, it is also important that you don't fool your thermostat. If you decide to place a heat-producing device, and this includes anything from a TV to a lamp, you'll find that the heat emitted will wreak havoc with the thermostat reading. The result? Your HVAC system will be running far more than it really should be, and cost you a fortune in the process.
Ventilate your attic
You might not have any plans to go up there, but let's not forget just how your attic can be impacted by the soaring temperatures. As we are taught from a young age, heat rises, and all of the heat in your home will somehow end up in your attic.
As such, before summer is in full flow, make sure it is adequately ventilated. By doing this, you will at least ensure that the hot air from your home isn't building up excessively.
Blinds aren't just for privacy
If you don't have blinds, or curtains for that matter, installed in your house then we would advise that you do so. While the manufacturers of these generally market the privacy benefits, in summer they can also prove to be hugely advantageous.
Some of them are designed to be thermally efficient, meaning that they prevent the sun's rays from penetrating your room. If you want to go to town with your windows, you can purchase smart versions which will effectively work alongside the sun to ensure that the heat entering your property is kept to a minimum.