Advantages of Using an Electric Range
by Guest on Mar 29, 2011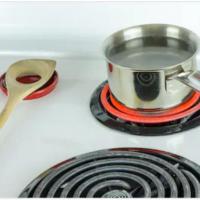 Among cooking enthusiasts, the debate can become very heated when discussing whether a gas or electric range is better. Gas stoves have traditionally provided a highly trusted method of cooking, but advances in technology have given the electric range a leg up. The electric range now offers more options than ever before, providing an efficient and effective way to have a tasty dinner.
One of the noteworthy advantages is the ease of installation. Most electric range models require a special electrical outlet, which the majority of existing kitchens already have in place. If not, it is important to recognize that the outlet for an electric range is much less expensive and easier to install than a gas hookup.
Furthermore, the electric range has certain financial advantages. One of these is that the stove can be turned off several minutes before the food is finished cooking in order to save energy, affording an even higher amount of monetary savings. The heating element on an electric range retains a considerable amount of heat for several minutes after power has been cut to that element, allowing the food to finish cooking before the stovetop begins to cool. This principle works just as well with an electric range oven. The oven may be turned off several minutes before baking time expires, but the heat will remain trapped inside the oven and finish cooking the food before the cooling process takes effect.
An electric range also allows for consistent and controlled heat. In the past, people criticized electric range models for the initial time that they took to preheat. This is no longer the case. Electric stovetops now heat almost instantaneously. Because they are so responsive, the chef will not be slowed down at all by having to wait for the element to warm up. The electric range has the added advantage of complete temperature control. Some models even have digital thermometers, allowing for more precision in choosing the desired level of heat. The electric range also maintains temperature consistency on all sides, which makes cooking a lot easier by ensuring that food will cook evenly.
Cleanup is also very simple on an electric range. The flat-top stoves which have been increasing substantially in popularity are remarkably easy to clean. There are certain cleaners that have been formulated especially for use on ceramic or glass tops which keep clean-up short and sweet. Even the variety of electric range that has coils allows for easy cleaning because its removable parts can be washed by hand in just a few minutes.
Finally, a very important advantage to the electric range is safety. While a gas stove has the innate hazard of allowing toxic and explosive natural gas to leak into the house, an electric stove doesn't present this risk. Also, the majority of modern electric range models have lights that indicate when the surface of the stove is hot, warning against accidentally touching it or placing a flammable item on its surface. The modern electric range allows cooking and cleaning to be much more efficient.