Cooking with Your Slow Cooker
by Guest Post on Sep 27, 2011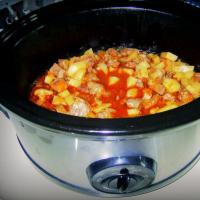 Is your life hectic and dinner time is just a mad rush to feed everyone? If this is the case for you, a slow cooker could be the answer that you have been looking for. Slow cookers can be your best friend in the kitchen. In the morning you can simply add your ingredients into the slow cooker and when you come home after a hard day's work dinner is complete. Doesn't that sound simple? It truly is a great appliance to own and it will save you tons of time. There are some tips I would like to share before you begin using your slow cooker to help the process work smoothly.
4 Great Slow Cooker Tips
Most slow cookers are not high-tech. Your slow cooker will most likely only have two different settings high and low. If you are unsure about the setting I always choose low. It is unlikely that you will overcook a meal on the low setting. Remember with each recipe for your slow cooker that times will vary with each machine so take that into account.
The first time you use your slow cooker you will be tempted to remove the lid and see how the meal is coming along. You should avoid taking the lid off as much as possible. Removing the lid lets the heat escape and will make cooking longer. Taking the lid off also lets all the moisture escape which is what keeps your meat tender.
People often throw entire whole vegetables into their slow cooker and assume over that period of time they will be tender. This is not always true. It is best to slice your vegetables to be certain they will cook properly and become tender. Canned and frozen vegetables can be added as they are since they usually do not take as long to cook.
When using recipes with dairy products you should be aware that they do not do well in high temperatures for long periods of time. If your recipe includes cheese it is best to add it later in the cooking process, preferably in the last hour of cooking.