Benefits of Choosing an Electric Range
by Guest Post on Mar 29, 2011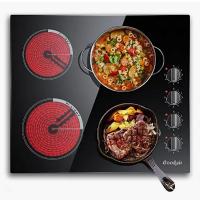 In order to decide between an electric range and a gas range, consider safety, cost, and convenience. The kitchen is an important room in every home, and most activities are centered around it. Ovens and stoves are essential appliances needed to complete even the simplest of tasks.
While the kitchen can be a great place for family bonding, it has also been known as one of the most dangerous rooms in the house. An electric range can help reduce the number of accidents in the home. Unlike a gas range, the electric range doesn't use a flame. No pilot light is needed to operate an electric range. Pilot lights oftentimes go out in gas ranges and can be hard to find and fix. Owners must be cautious when dealing with an open flame anytime there is gas nearby. With an electric range, the coils light themselves, and they can last a long time. An electric range does not give off any gases which make it a very safe option for any family that is looking for a great appliance, and concerned about using gas. With an electric range, you can feel safe knowing that it does not emit anything that could be harmful to you or your family. Usually, there is a bright indicator on every electric range showing you that the unit is on or still hot. The electric range is either on or off, never emitting any potentially noxious fumes. This is a great safety feature of the electric range that makes it very family friendly.
An electric range is generally less expensive than other appliances. There is no need to rely on unpredictable fuel sources with an electric range. It is easier to control the amount of energy used, with just a touch of a button. Most houses are equipped with the necessary 240-volt power supply required to set up an electric range. Because of this, you don't have to worry about any extra installation or setup costs when you go with this appliance and you can immediately start using it upon purchase.
Cooking on any stove can get messy. Even if you are careful, splashes and splatters will end up out of the pot. If you get a smooth top electric range, cleanup is very easy because the surface cools quickly and you just wipe away the grime. Most smooth top electric range models come with many sizes and locations to choose where a heat source can be, and temperature is evenly controlled. The coil top electric range offers a removable drip pan, and the coils are usually easy to pull up to thoroughly clean. An electric range also holds more consistent temperatures, which will help your food to cook more evenly and also lower the risk of ruining a meal.
Choosing an electric range is logical because they are convenient, efficient, healthy, and safe. With all the activities and preparations centered around the kitchen, it is nice to know you have chosen a product that you can trust.