How do Front Load Washers Compare?
by Guest Post on Jun 17, 2011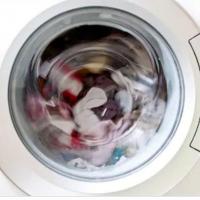 Top load washing machines are an old standby and as far as automatic clothes washers go, they have been readily available and are found in many homes, as opposed to the newer front load washers. Though they have been available for several years, front load washers are becoming increasingly more popular with modern households.
Front load washers have more commonly been found in commercial laundromats and have always done a good job of cleaning, particularly on heavily soiled items. Who hasn't taken their sleeping bags or dirty baby laundry to the laundromat knowing those large, tough washers would do the job right? If a new washer is a necessity, then consider front load washers when needing to replace an existing machine.

As for results, when doing the actual laundry, front load washers can result in cleaner clothes than old top load styles. Front loading washers are less hard on your clothing investment as there is no agitator. Machines that load from the top usually rotate up and down as well as back and forth causing increased wrinkling and wear. They use the force of gravity to be able to propel the clothing back and forth so you don't have to worry about any additional wear and tear on your garments.

Front load washers may take a little more time to run, but it is well worth it when you take into consideration how much less wear occurs and how much cleaner your clothing comes out. Front load washers come with many custom settings, so a shorter cycle is possible, allowing one to select the setting that is best for any given batch of laundry with confidence in the results. To pick up the slack for a longer wash time, however, front load washers have high spin speeds which leave less water in the clothing and allow for dramatically shorter dryer time. This is a big plus for the energy bills as well.

Though commercial front load washers were oversized and unattractive, modern models are much more streamlined and come in a variety of sizes and finishes, including the popular stainless steel finish. Front load washers are easier on the environment than some top loading models and use much less energy, laundry soap, and water (as much as 60% less in some models) than some of the washers that load from the top. They are also well insulated so as to promote the quiet operation, allowing it to run at night without disturbing the family.

Between front loading machines and conventional top load models, which is best for any individual household? A visit to an appliance center will allow an up-close look at the advantages and disadvantages of each and help answer any questions that may still be lurking. Online product reviews are also a great help, and can usually inform buyers about the everyday use of the product.

Front load washers are generally a long-lasting, energy and cost-efficient, and attractive option to standard top loading machines. The performance of these machines is above par and may be a perfect fit for many modern homes.