5 Easy-to-Forget Tasks to Get Your Home Ready for the Holidays
by Valerie Muscat on Oct 3, 2019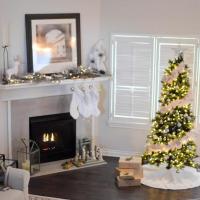 The holidays are ideal for creating new memories with friends and loved ones. However, this time of year can be particularly stressful, especially if you don't organize your home and prioritize your time. Focusing on a few tasks before the official holiday season can reduce your stress and increase the chances that you'll have time to spend quality time with your loved ones. Here are five tips that you can take into consideration to prepare your home for the holidays.
Declutter
The winter season is a great time to purge your closets and other parts of the house. Getting rid of items you no longer need and eliminating the clutter in your home can ease your stress and even make rooms look cleaner than they actually are. Decluttering can also be a quick fix in case you don't have time to deep-clean your house before you welcome company.
Make Your Home Pest-Free
Pest control is a huge part of getting ready for the holidays, especially if you'll be hosting family and friends during the season. It's also best to check for pests during this time of year, since you'll likely be cooking a lot, and rodents and insects may be attracted to your home if there are crumbs or food pieces on the floor and cabinets. You can turn to pest control for a thorough evaluation of your home and get the best pest elimination methods.
Clean The Things You Normally Forget
Even though you may clean and vacuum your floors often or clean the kitchen and bathroom every few days, it's essential to clean the parts of your home that you normally overlook when you're preparing for the holidays. Give the windows a thorough cleaning and wash the curtains. You may even want to have your carpet professionally cleaned to give your home a fresh look and feel.
Pay Attention to the Kitchen
The kitchen is often the main gathering area of the home. Since you'll likely be cooking and baking during the holiday season, clean the kitchen of all clutter so you'll feel less stressed while cooking. It's also important to deep-clean your appliances and add a few holiday touches to the kitchen. Getting themed dish towels or even buying a table or small island to give you more seating or storage space. You can customize these pieces by painting them in colors that coordinate with your kitchen decor.
Decorate Early
Finally, don't wait until a day or two before the holidays are in full swing before you start decorating. Your time will be occupied with buying and wrapping gifts and making sure you have enough time to share with loved ones. If you want to decorate for Christmas, the week after Thanksgiving is the ideal time to put up your tree, hang wreaths on the doors, and adorn the fireplace with tinsel and stockings. You can even get a few holiday scented candles that smell like pinewood, sugar cookies, or freshly fallen snow so everyone who enters your home will feel festive right away. Lastly, happy holidays!