3 Ways to Dress Up a Metal Folding Chairs
by Guest on Jun 8, 2010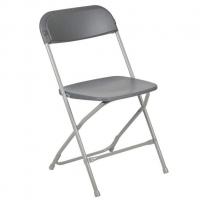 Metal folding chairs can be a great addition to a game room, family entertainment area, or simply for guest use. They are often the cheapest and simplest choice for various events, such as weddings, birthdays, parties, and similar types of events that feature larger crowds that will need seating. However, they can be unattractive, and take away from the décor of the event without some dressing up.
Here are three ways to dress up a metal folding chair.
Add accessories.
Just like any other part of your décor, a metal folding chair can be accessorized to make it look more presentable. The easiest and most inexpensive, way to do this is by adding balloons, ribbon, or bows to the chair to draw attention away from the chair itself and toward the accessory. Make sure that the accessory does not interfere with the seating or become a bother to anyone sitting there. You can do this by adding accessories only to the back or sides of the chair and never to the seat itself unless it is a cushion.
Paint it.
This sounds like a simple choice, but it really can work wonders to paint a folded chair. Most are boring shades of gray, blue, or green that do not work with any décor, even at the least formal event. Painting or customizing the chair can make it feel more like a part of the décor, and this is a great option for once-in-a-while use. Most types of spray paint can be used to paint a metal folding chair, but you can ensure success by reading the paint label and making sure that it is suitable for painting metal.
Use fabric.
This option can cost slightly more but offers the most effective and attractive covering for a metal folding chair. By draping fabric over the chair, you can hide the chair itself without losing the seating. Any type of fabric can be used, and it only takes a yard or so to cover effectively and look fabulous. While it is not a cost-efficient option for large numbers of chairs, it is a great idea for decorating seats for special events or small formal gatherings.
Depending on how many people you need to seat, metal folding chairs are a very inexpensive alternative to buying furniture to accommodate everyone. Most metal folding chairs are available for purchase in sets, normally in groups of four or more for a specific price. They are simple to store in smaller areas and can be hidden in an attic, basement, storage building, or under a bed until they are needed again.
Even with the addition of accessories, paint, or fabric, the cost is still significantly less than purchasing additional seating and then being forced to find a place to store it once the event is over. It is also an affordable alternative to renting seating for everyone, and then having to hassle with returning everything on time. Dressing up a metal folding chair is a great way to personalize and be creative at your event, and will make your chairs look great.