Choosing the Right Food Processor for Your Culinary Needs
by Guest Post on Sep 2, 2010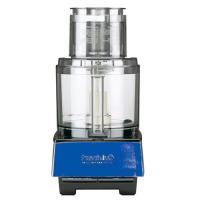 For any home cook enthusiast, there are a number of essential appliances which will be found either in their kitchen already, or on their wish list. One of these is a food processor. Food processors are an important part of everyday chefs because they offer a wide range of culinary uses from mixing dough to slicing tomatoes and lettuce. Finding the right processor depends on your needs. Here are a few factors to consider when determining which one is right for you.
Size:
To start, consider the size. These appliances are offered in miniature sizes, called "mini food processors", to large 11 and 14 cup sizes. Mini processors can generally hold up to 4 cups of food. These smaller sizes are good for chopping, dicing or slicing small quantities such as for pesto or salsa. You can use these to chop herbs, cheeses, vegetables, and even fruit as well.
Larger processors are also used for these purposes, but can also include additional features such as dough mixing feature. These food processors will come with a "dough blade" included. The type of dough created depends on the ingredients which are used. You can make pizza dough, cookie dough, or bread dough. These dough mixers should come with a manual containing a list of recipes. They will also give you tips on how to best use the appliance for the type of dough you are wanting to create.
Despite the general size of the mixer/processor, consider the literal dimensions of the appliance. If you plan on keeping it on your counter, but under a cabinet, make sure it will actually fit.
Purpose:
Not all dough or food processors come shipped with the same parts. Many times it depends on the actual purpose of the appliance. If you are looking for an appliance to do mostly dicing and slicing, then make sure it includes a slicing disc and shredding disc at a minimum. Some models come with a reversible slicing and shredding disc which produces a finer shredding result.
If however, you are more concerned with mixing batches of dough, you will want to ensure there is a dough blade included. Not all models have a dough setting, but some manufacturers such as Cuisinart, have a special patented dough blade technology that they claim produces an even dough consistency. However, to the average home cook, other models with a generic dough blade or mixing feature will probably suit them just as well. In addition to the dough blade, look to see if there is an egg whip accessory that is often used in a number of baking recipes.
If dough making is not important then look for models which do not have the dough setting. Often, the dough setting can be a feature that causes the purchase price to be higher due to the added value.
Warranty:
As with any home purchase, consider the warranty. Some companies offer a generous warranty with your purchase, while others not so much. When looking at the warranty, ask the following questions:
What parts are covered under a full warranty?
What parts are only covered under the first year?
Do you have to pay the shipping for replacement parts?
Is there an (800) number with helpful service?
What is their return policy?
Do you pay for the return shipment and how long do you have for a full refund?
These are just some considerations to think through when looking for a food processor or a dough mixer for your kitchen. Looking at all the various styles and models can quickly become overwhelming. By breaking down the process into the aforementioned categories, you will more easily be able to recognize which models will or will not suit your own purposes.
If you are still unsure, you can always visit the company's website and download a copy of that particular model's manual. Read through the manual as this can help you become familiar with the practical applications and usage instructions prior to making such an important purchase.