Convection Microwave Features
by Guest Post on Mar 29, 2011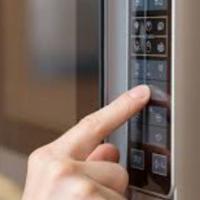 For the person who is busy, a convection microwave has some advantages over conventional electric or gas ovens. A convection microwave speeds up the cooking process yet does not change the desired results. Using a convection microwave allows one to continue to prepare healthy, home-cooked meals even when time is short. Because you can use it to bake and broil foods, it gives you many more cooking options than a regular microwave.
When shopping for a convection microwave, you may want to be aware of the many features that are available. You will be able to find models that are fairly simple and models that have every feature imaginable. It can be fun to see what is out there, but it is a good idea, to begin with, the type you require. There are basically two types of convection microwave ovens, the countertop model and the over-the-range style. Your first decision is where you will put your new convection microwave.
Your next decision will be the actual size of the convection microwave. Most will range in size from 0.9 cu. ft. to 1.8 cu. ft. and there will be outer dimensions in addition to these volume dimensions. Your size decision will be based on where in the kitchen you will be placing it and what you will be cooking in it. Power wattages range from about 500 watts to 1300 watts, so choose the convection microwave that has the power you need for the foods you plan to cook. It takes longer to cook foods with fewer watts. Color is another choice you must make, but if all of the appliances in your kitchen are one color, you will find it easy to match the color of your convection microwave; generally, black, white, and stainless steel are always available.
With those basic decisions out of the way, you have a plethora of features left to look at when shopping for a convection microwave. You can choose interactive digital displays and lighted interiors. You can choose a variety of types of temperature controls. You can choose convection microwave ovens with many automatic settings. Many come with a low rack for roasting, baking, and broiling, and others come with a high rack so that you can bake on two levels. You can choose a porcelain enamel turntable to help with the even heating that the convection microwave provides. Over the range convection microwave models may offer different methods of venting. Some are very programmable to help compute baking times and temperatures for different foods. Others even have a custom help key that will guide you to the answer to your cooking questions.
As you can see, there are many features and options that are available. These will also contribute to the price of the convection microwave. It used to be that a convection microwave was considered a high-end kind of appliance, but no more. With the popularity of the convection microwave on the rise, and the constant improvements in technology, prices are very comparable to other microwave ovens. If you are in the market, then a convection microwave can make good sense for a busy family.