Special Features of the Convection Microwave
by Guest Post on Mar 29, 2011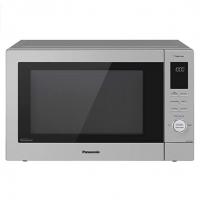 If your kitchen doesn't have room for all of the appliances and features that you would like, you may want to consider getting a convection microwave. For people who have limited kitchen space, it is not feasible to have both a convection oven for baking, roasting, and grilling, as well as a microwave oven for defrosting and reheating. Rather, it makes sense to purchase a convection microwave that combines the best of these features. With this amazing appliance, one gets the even cooking that convection provides as well as the speed of the microwave. By combining these in a convection microwave, the food is heated by radio waves as well as the circulating hot air. The convection microwave brings you the best of both worlds, beautifully browned and cooked food that is quickly prepared.
Many features make a convection microwave special. First, is the combination of heating methods in it, which allows for your foods to cook faster and retain their high quality. Meats can be browned on the outside quickly with the hot air that is circulating and juices are locked inside because of the speed of the microwave cooking method. The convection microwave does not require pre-heating as a conventional one does. Defrosting is also not a problem with a convection microwave because the radio waves defrost food before it begins to cook. This means that your food can go directly from the freezer to the convection microwave. If you forgot to plan your meal or simply didn't have time, this is a feature that will allow you to put a healthy meal on the table faster than you ever imagined.
Most convection microwave ovens offer three methods of cooking, which are microwave only, convection only, or both together. This gives you much more versatility in your convection microwave cooking and makes good sense. You don't want to use more power than is needed for simply warming up food, yet you have the option of actual cooking and baking whenever you want it. If you are energy conscious, then a convection microwave makes a lot of sense. By combining both ovens in one convection microwave, you save money over purchasing the two separate units. The energy you save will also be apparent since you will use lower temperatures and shorter cooking times with a convection microwave.
Because the convection microwave cooks foods quickly, more nutrients are preserved. This makes the food you cook healthier for your family. This is a great feature because we are all being told that we need to try to eat more healthy foods and improve our daily nutrition. If vitamins and minerals are preserved in foods that are cooked quickly, then using a convection microwave provides an added benefit for the entire family.
As you look at the different models of convection microwave ovens, you will see that there is a myriad of features available. Choose a model with features that are easy for you to understand, and that you will use. Pick the size that works in your kitchen and the color that you like. Soon, you will be on your way to quick and delicious cooking with your convection microwave.