Reasons to Strengthen Your Roof with Architectural Shingles
by Davina hamilton on Sep 12, 2018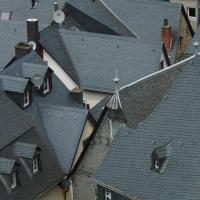 Architectural shingles are very similar to asphalt shingles. In this article, we will discuss some of the main reasons to strengthen your roof with architectural shingles.
Reasons To Use Architectural Shingles:
1. Great Looking.
The biggest difference comes with the way they look. While they are going to give you the same kind of construction benefits that you would normally be able to enjoy with traditional asphalt shingles, they are going to come with a much more stylistic and versatile look to them. Because you can find them in a variety of different colors and patterns, they are going to be a great addition to any home no matter what look you are aiming for. Not only are they versatile in the stylistic options, but you can even get a pattern on them that can make them look like much higher quality options on the market mimicking even the highest quality materials like slate or tile roofing.
2. Affordable. 
Another big thing that you are going to get when you decide to invest in this type of material over others would be an affordable price point. You will be able to get them at a much more affordable price point than you would expect to pay for much higher-end materials that look similar. You will generally pay much less for the performance of these shingles versus the higher quality equivalents. 
3. Good for All Roofs. 
Another good thing that comes with this type of roofing material would be its versatility. As mentioned previously, these shingles are very easy to fit into just about any position which makes them ideal for roofs that need special cutouts for various corners on different roofs. This also happens to make installation on various roof styles as simple as possible because of the flexibility and versatility of the material. 
4. Better Energy Efficiency. 
Another significant advantage that you are going to be able to enjoy this type of roofing material would be greater overall energy efficiency. You will be able to keep your roof much cooler because the shingles will be effectively deflecting much more excess energy and keeping it out of your home. This alone can save you a tremendous amount in cooling bills because you will not be letting excess heat into your home through your roof. 
Overall, there are plenty of reasons to opt for this material when you are looking for the ideal roofing material to choose from. You want to find the roofing material that will offer you the greatest benefits. This particular material offers extreme levels of flexibility and versatility. It also happens to be extremely energy efficient. All of this while not sacrificing any amount of durability at all. Therefore, you can expect to pay much less for a similar-looking roof to higher-priced materials all while getting superior performance. It is simply one of the best roofing materials that you can choose for your home's roof no matter the circumstances and characteristics of your roof. For free roof inspection, 
This article focuses on some of these reasons and helps you to understand why you should strengthen your roof and if required contact a roof repair company. Some of them even will be generous enough to offer you a free roof inspection.