How to Choose a Stackable Washer and Dryer for a Rental Property
by Guest on May 31, 2018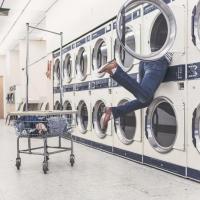 As a rental property owner, you know that attracting and keeping mature, responsible tenants can help ensure your investment is profitable and helps keep the landlord-tenant relationship stress-free. Providing tenants with a washer-dryer combo is more than just a selling perk. Investing in a stacked washer/dryer can help your tenants take care of their space. As a property manager, you do not want to deal with the mildew, mold, and even insects that can invade if a tenant leaves piles of filthy clothes all over your apartment. Of course, installing stacked washer/dryer units does not mean you need to break the bank. Here are tips to help you choose a stackable washer dryer for your rental property that will be appreciated by your tenants and prove a sound financial investment for you. 
Price Is A Primary Concern 
Price is certainly a primary concern. While a steam-powered laundry washing machine can cost as nearly a thousand dollars, you can find a stackable washer dryer combo for about the same price as a unit that only comes with a washer and no dryer. Of course, choosing the cheapest option is not always the best idea. If your tenant's unit breaks down, not only will be responsible for the repairs, but you may have to pay for them to clean their clothes at a laundromat until the unit is functional again. 
Capacity Matters 
Some bargain laundry units only allow users to wash and dry small loads. These can be fine options if you are renting a one-bedroom apartment or loft, but for a family-sized space, these units can be inadequate. To stay on top of household chores, residents might be tempted to overload the machines, causing damage and greatly reducing the potential lifespan of the appliance. For larger apartments, make sure you invest in a unit with an appropriate capacity. The Electrolux myPro stacked washer/dryer WE170P-V/TE1120 is one solid option that balances affordability, durability, and capacity. Sometimes trying to save money in the short run can lead to larger out-of-pocket costs down the road, so make a sound investment in a quality product for your rental property. 
Durability Is Key
To make sure that you are not wasting valuable resources investing in a machine that will be broken within six months, take time to read reviews and ensure you are selecting a durable model. One of the first things you need to decide when purchasing your new washer is whether you want it to be top-loading or front-loading. Both options have their pros and cons. Carefully weigh your options as you compare top load with front load washers to determine which type suits your needs the best.
Materials Matter 
Durable materials are not only important to ensure that your tenant's washer/dryer unit enjoys a long life of use, but high-quality materials also help reduce the noise of a washing-drying cycle. This is crucial in multi-family dwellings, where even the normal noises of daily living can cause tension and animosity between residents in different apartments. 
Consider Clearance Issues As Well As Space 
When you select your laundry washing machine, but sure you take into account any clearance space the unit needs. Many washer/dryer combo units need to be a certain distance from the side and back walls for safety and ventilation reasons. Measure twice to save yourself the hassle of trying to install an oversized model only to have to return it.