5 Energy Saving Tips for Washer and Dryer Machines
by Sally Smith on Jun 26, 2018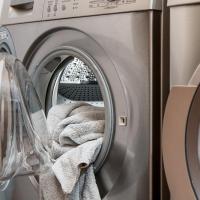 If you want to have clean clothing and linens, then you must use a washer and dryer to launder these items. It can become expensive to wash and dry things, but there are several ways to save energy by reducing your water, natural gas, or electrical usage. If you are a landlord who supplies a coin-operated electric dryer for your tenants, then these suggestions will help you to save energy.
Here are five tips for saving energy while laundering at home or in an apartment building.
Tip 1: Install Electric Heat Dryers In Your Rental Property
In the past, natural gas was the least expensive option for commercial or home appliances such as washers and dryers, but today, that has changed because using electricity is cheaper. If you have ancient dryers in your apartment building's laundry room, then it is time to upgrade to modern electric dryers. Before choosing new dryers for your rental property, make sure to comparison shop, and remember that you may need to have new outlets or electrical wires installed in the walls of a laundry room to prevent overloads or fires.
Tip 2: Learn the Best Time To Use Washing Machine Equipment
Check with your local electric company to determine if it charges less money for electricity at certain times of the day or night. If you know that the charges are higher at particular times, then plan to wash and dry your linens and garments at other times of the night or day. When you are a landlord, you can have your laundry rooms closed at certain times to maximize your profits from a coin-operated electric dryer. Make sure to alert your tenants about the time schedule for using an apartment building's laundry room so that they can make the appropriate plans.
Tip 3: Buy a Water Saving Washer and Dryer
In addition to knowing the best time to run washing machine equipment and dryers, you should buy economical water-saving washer and dryer equipment. Today, many washers and dryers are combination units that stack on top of each other, but a washing machine might use a lot of water. While selecting your new washer and dryer combination unit for home or commercial use, make sure to choose a model that has an adjustable water level so that you can wash small loads of laundry without wasting several gallons of water. You should also encourage using cold water to wash linens or clothing to save more money.
Tip 4: Landlord Should Buy a Commercial Washer and Dryer
Rather than buying traditional washers and dryers for your apartment building, you should select commercial washer and dryer equipment that is designed for long-term daily use by numerous tenants. While commercial equipment is often more expensive in the beginning, the devices are also made with sturdier rubber hoses and electrical devices, helping to conserve natural gas or electrical energy along with the water necessary for keeping garments and linens clean.
Tip 5: Buy the Best Energy and Water Saving Washing Machine That You Can Afford
While shopping for a washer, keep a list of your options in a notebook, and compare the appliance's features and prices. Look at what previous customers have said about the washer to help you make an informed decision about the best equipment to buy. It is always better to buy the best energy and water-saving washer that you can afford because you will save more money in the next 10 to 20 years. Use the same type of comparison-shopping to find the most economical dryer.