Gas, Induction Cooktops and Electric
by Guest Post on Mar 29, 2011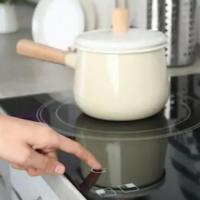 There are three major types of cooktops which include gas, induction cooktops, and electric. The kitchen centers around cooktops and heating our food, and it's important to know the difference between them. All cooktops have their own advantages and work well for everyone for different reasons.
Gas cooktops are great for people who enjoy cooking every day. These cooktops offer the whole "chef" experience. The gas cooktops are the only ones with an actual flame, and many people say the flame gives a certain flavor to the food. Gas cooktops are very versatile and can be used to cook any type of food. The burners of the gas cooktops can be customized and there can be anywhere from 1 to 8 burners depending on the size, and these cooktops can usually offer special specific burners to add for unique cooking. Gas cooktops sometimes come with built-in fans to help the range hood clear the air for better ventilation. Many people say that gas cooktops offer higher heating temperatures and that the cooktops are easier to control at a steady temperature. This makes cooking complicated dishes easier for most chefs, but unlike most of the other cooktops, any type of pot or pan may be used with gas cooktops.
Induction cooktops are also a great option for busy cooks. With induction cooktops, the heat is applied directly to the pan above it, and no heat is wasted. The heat emitted from the cooktops is instant and precise as the heat goes directly into doing the job, and gets the job done quickly. Induction cooktops themselves even stay cooler with only the area directly below the pot or pan getting warm. With induction cooktops, we can show our children how to prepare food safely as there are no flames or hot surfaces. Induction cooktops are also very thin, can be installed in more convenient places, and are even wheelchair accessible.
Electric cooktops are a wonderful option for any cook. The cooktops come in a variety of colors and styles and can make any kitchen look great. They are user-friendly and easy to use. Electric cooktops are usually cheaper and easier to maintain or fix. They come in flat surface cooktops or coil cooktops. The flat surface cooktops are very easy to wipe clean and can look very sleek and blend in with any kitchen, and they also have an easy control panel built into the surface of their cooktops that are lit to show if the unit is still burning or not. Coil cooktops are very common and the cooktop coils can be lifted up easily to clean the food in the drip pan. The coils are cheap and easily replaceable if they were to break or die out. There are also grill attachment add-ons you can choose from if grilling is your specialty or preference. Electric cooktops are easy to use and are great for anyone who enjoys cooking.
There are a lot of different cooktops to choose from, but cooktops are a necessary appliance for every kitchen and are an important tool for any cook. All cooktops are different but they all get the job done, so make sure to research these appliances to make the best purchasing decision possible.