Installing Decking in Your Yard
by Boris Dzhingarov on Jun 7, 2018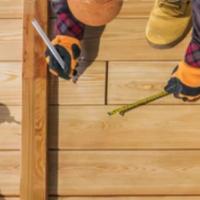 Laying a deck in your garden can give it a whole new lease of life and transform it into something special. The garden is an extension of your living space and it should feel just as homely and be as well looked after as the inside of your house, and laying decking is a wonderful way to do this. Decking is low-maintenance, hardy, and looks great in any yard, giving you an entirely new area within which to host parties and BBQs.
Decking enables us to get very creative and turn the yard into a talking point, however, before you go jumping into your new DIY project, there are a few things that you need to get out of the way first. Also, learn the difference between a deck and a porch as this is something that many people get mixed up and we want to ensure you have got the right thing in mind!
#1: Measure Out Your Space
You cannot proceed to make plans and begin your DIY project if you do not know how much space you are working with. Start by measuring the area which you want to cover with decking to ensure that you have adequate room for any furniture or features you wish to include… we can't think of anything worse than completing your project and then finding out you can't fit 50% of the stuff you wanted on it!
Use pegs, string, and spray paint to mark out the area and make a note of all the measurements before proceeding with anything else.
#2: Draw Your Blueprints
Now that you've figured out the area you have to work with, you should draw up a comprehensive set of blueprints and plans that iron out every possible detail on paper.
From your blueprints and plans, you will be able to accurately work out how much of which materials you will need, and you can take them down to the hardware store and get help from one of the staff in sourcing it all. Drawing blueprints is simple – just visualize the end product in your head and put it down in semi-rough form on paper.
#3: Start Your Groundwork
Before you begin building any part of your new decking, you will need to get the basic groundwork out of the way. Many people wrongly just build straight atop grass or their garden surface… this is the wrong way to go about it and you should place it on top of a proper foundation.
If it's going on top of a patio, you can usually just build your decking straight on it, but for softer terrain such as grass, you will need to dig out some basic foundations and add support structures.
Building a deck is a great way to give your yard a whole new lease of life. They are a fantastic place to host gatherings and it is a fun DIY project which will keep you busy for the next month or two.