How to Maintain Your Garbage Disposal
by Guest Post on Sep 7, 2010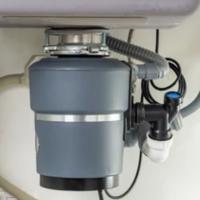 Garbage disposals are one of the easiest kitchen appliances to operate, maintain and use in your kitchen. The best way to begin your journey is to read the directions with your garbage disposal. All disposals are not alike that's why this is an important first step for anyone.
Once you have done this, now enjoy using your garbage disposal. Using your garbage disposal will lessen the amount of messy garbage you put out for trash every week. For some disposals, you should not put chicken bones or potato peels inside while for others you can. Also, use your water running to move them properly along out of the garbage disposal and along their way. Once the food scraps sound like they have all been ground up, allow the water to run through your garbage disposal for a short time. The best way to use the garbage disposal is to turn your water on first and let it get good and wet down there. Now, slowly begin carefully tossing the food inside. You don't want to jam-pack your disposal and then turn on the switch because it will have no airflow and nowhere for the water to go. Your disposal uses the water to help mulch up your food scraps and by running the disposal just a little bit longer to help it all move along through your pipes.
On a safety note, always be sure to keep your hands very clear from your garbage disposal and to never run it should a spoon or fork drop in it. Always make sure it is safe to run and of course, keep children away from it at all times. Never put your hands in it while it is running no matter what! You, also get what you pay for in life. If you purchase the absolute cheapest garbage disposal, it will not last very long. For some reason, the cheaper ones just do not seem to last. Many people usually just pay a little more upon purchase for one and it lasts much longer for them, saving them money in the long haul.
The absolute best way to maintain your garbage disposal is to run it properly with water and not jam the food into it filling it to the brim and then turn it on, expecting it to work the way it was designed and it will not. Use it the proper way and it will last for many years.