Ideas for Updating Kitchen Lighting
by Guest on Apr 27, 2012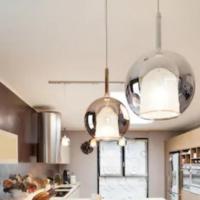 Kitchens are a workspace and gathering space so they require a lot of lighting. If you are planning to remodel your kitchen or just need an update, great lighting can create a huge impact. Most likely, your current kitchen has more than one light source mounted on the ceiling. Even if there are up to 5 different light sources, it might not be enough! The idea to keep in mind when lighting your kitchen is that layering it will give you the best result. Consider all that your kitchen is used for. Most likely, it serves as a multipurpose space for preparing food, eating, homework, reading, and entertaining. Proper lighting will add functionality as well as a great look.
Your kitchen lighting design should start with an overall cast, as well as, strategically placed light sources. These strategically placed lights are referred to as task lighting. The overall cast is called general lighting. Think of it as your base. Lastly, there is accent lighting. This type of lighting adds that extra dimension and creates warmth. Accent lighting is usually softer and less vibrant.
Lighting comes in all shapes, forms, and sizes. One unique solution is roof windows which are also known as skylights. This can provide a great feeling of openness and lightness in the kitchen. However, if they need to be installed, it can be a more costly option. If you have a contractor remodeling your entire kitchen, you could ask them about this feature and get a quote. However, this solution may not be the best design solution for your kitchen. It may not even be possible for example, if you live in a two-story home. Roof windows or skylights fall under the general lighting category. Keep in mind this light source is only available during the day and varies depending on the sun's intensity. Other general lighting techniques will be needed at night to make up for the lack of light coming through those windows.
Can lighting or recessed lighting is a good solution for the kitchen's base layer of light (general lighting). These are typically spaced around the perimeter of the kitchen approximately 30″ from the wall. Having some of these lights hit a few of the faces of the cabinets can add a nice effect but don't go overboard. A chandelier or pendant lights over an island can also add to your general lighting while creating a nice focal point in your kitchen. These types of fixtures also allow you to bring out the style of your kitchen.
Under cabinet lighting and even top cabinet lighting can bring depth to your kitchen while giving it a tailored, upscale feel. Under cabinet lighting is installed just like its name states, under the cabinets right above the countertops. This type of lighting falls into the task lighting category. If you are having your kitchen remodeled, be sure to have the contractor run under cabinet lighting when installing the cabinets. Running it later is more time-consuming and expensive. The lights that go under cabinets are called puck lights. These lights can use LED bulbs which last an extremely long time and they do not emit heat as a regular lightbulb does. LED bulbs are a little more expensive but can last up to 25 years! In fact, using LED lights throughout your entire kitchen can help keep the temperature down in the kitchen during the summer. Above cabinet lighting is the same as under cabinet lighting but is, obviously, above the cabinet. It falls into the accent lighting category. These can cast a beautiful glow on the walls above the cabinets, adding more depth and drama. Not the most practical, but they will definitely add a touch of class.
Overall, the best solution is usually a combination of the solutions mentioned above. So when you are remodeling or updating your kitchen think about where you will be preparing food, eating, reading a recipe, etc. This will help you determine where light needs to be directed. A great lighting design not only provides practicality in helping you perform better in the kitchen, but it also provides ambiance when you're relaxing after dinner with your family or when entertaining guests.