Things to Consider When Purchasing Cooktops
by Guest Post on Mar 29, 2011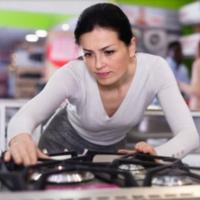 Whether you are building a new kitchen from scratch or remodeling your existing space, cooktops offer maximum versatility and freedom in layout and design. Cooktops do not have an attached oven so you can mount them over a wall oven or, if you prefer, over cabinets. Cooktops can be installed against a wall, under a window, or on a center island. Besides placement, however, there are many things to consider when purchasing cooktops.
If you need a higher level of heat for searing and sautéing, gas cooktops are the logical choice. Induction cooktops are a better option if the speed at which the pan reaches temperature or water boils is important. There are many features available on electric cooktops as well as gas cooktops and induction cooktops that you need to take into account when purchasing cooktops.
You can buy cooktops as small or as large as you like. Electric cooktops and induction cooktops are available with several different burner configurations. Basic cooktops offer four burner options, while higher-end cooktops come equipped with as many as six burners. Gas cooktops boast up to eight burners in some cases.
Select induction cooktops and electric cooktops have bridge elements that expand your cooking area to accommodate large or oblong cookware. This is a great feature for entertaining throughout the year. Cooktops with dual burners can also increase your cooking space. Your everyday pots and pans may fit on cooktops with smaller heating elements, but you might need the flexibility of a dual burner for larger stockpots or canners.
Cooktops with safety features such as control locks that prevent the cooktops from unintentionally being turned on may not be important to you now but could be in the future. Are you planning to start a family soon? Will you have grandchildren visiting from time to time? When evaluating cooktops you need to consider your future needs as well as your present lifestyle.
Induction cooktops are the easiest to clean. Because the surface is smooth and remains cool, it rarely takes more than a wet, soapy rag to clean off induction cooktops. If you are interested in electric cooktops or induction cooktops, look for models with an upswept lip to contain spills. Gas cooktops should have sealed burners to prevent food or water from getting under the cooktop surface. Also, look for gas cooktops with dishwasher safe grids for easy cleanup.
Cooktops should be safely insulated and adequately vented for maximum efficiency and durability. You will pay more for such cooktops initially, but you will typically see long-term savings if you choose a model that is built to last. The length of the warranty is also something to consider when shopping for cooktops.
There are many things to think about when purchasing cooktops. Take the time to really evaluate your needs and research your options accordingly and you will definitely be able to find the one out of many cooktops that is perfect for you.