Drought Management Strategies
by Dan Eskelson on Apr 30, 2012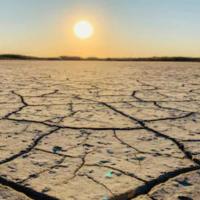 As a concerned gardener, I've been dismayed by recent weather news - the drought plaguing much of the country has become extremely serious! My daughter gardens in Santa Fe, New Mexico, and she tells me that the water shortage is so severe there that all new landscaping is prohibited, watering of existing landscapes has been curtailed sharply, and there's a good possibility that all new construction will be banned.
Despite what you may think of global warming theories, the severe drought we're experiencing requires a re-evaluation of our landscape priorities and a revision of our techniques. The following ideas may help save the most important parts of your landscape.
Do not water lightly! When you do water your lawn or ornamentals, run the water long enough to soak deeply into the soil. This will encourage deep rooting, which will, in turn, increase drought hardiness...roots will be down where the soil is cooler and moisture is more plentiful. Frequent, light watering encourages shallow roots that dry out quickly.
If you've been watering shallow and frequently, gradually increase the quantity of water and decrease the frequency. Because of the vast variety of soils, there's no hard and fast rule...but water as infrequently and as deeply as possible.
We should also evaluate our priorities - is a large, lush lawn that important? In areas that are suffering from drought, the decision is already being made by legislation. The rest of us should consider reducing the size of lawn areas, and also allowing existing lawns to go dormant with the heat of the summer.
I can't wait to hear the feedback from that last idea - yes, green will turn to brown, weeds will establish, and the long-time American fascination with the large greensward of turf will suffer. But at what cost do we continue to pour water, chemicals, and time into the luxury of a large, manicured lawn?
Our selection of ornamental plant material should be made in light of the possibility of water shortages. Plants that are native, or related to native, generally will be more drought tolerant. Our techniques for watering these plants should follow the guidelines above regarding frequency and depth. Drip irrigation puts the water right where it's needed, with little or no evaporation.
One of the best techniques for water conservation is mulching. In addition to keeping the moisture from evaporating, mulch provides a slow, steady diet of nutrients and beneficial microorganisms. A four-inch leaf mulch will increase a young tree's growth rate by as much as forty percent over the same tree with grass growing against the trunk.
I think it's time for us as gardeners to contribute to healing our ecosystem instead of continuing to squander our limited resources...at least presently, water is in very short supply, and many parts of our country are suffering greatly.