Is an Adjustable Bed Just What You Need?
by Lorena Benchis on Nov 18, 2011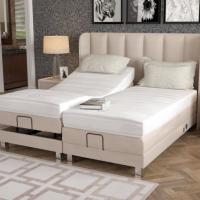 If a really good, restful sleep is eluding you at the moment then maybe it is time to think about buying a new bed. Sometimes we keep our mattresses for far longer than the recommended lifespan of the product, and the result can be restless and uncomfortable nights. If your insomnia is down to medical reasons or aches and pains then perhaps it is time to consider a different sleep solution and look at purchasing an adjustable bed.
Adjustable beds have proven benefits to aid peaceful sleep; here are some of those benefits which may apply to you:
An adjustable bed is essentially one that can be positioned to your specific requirements to meet the natural curves of the body rather than having to lie on a flat surface that may not be comfortable.
Many adjustable beds are topped with a memory foam mattress layer which further increases the level of support achieved by having a sleep surface that follows the contours of the spine.
Medical conditions such as breathing difficulties and asthma can be eased during the night with the upper body in a more upright position.
Back pain can also be relieved as pressure is taken off the lower spine when the legs are raised by the lower part of the bed.
If getting out of bed is an issue then many people experience an easier maneuver when transferring from the partially upright position typical in an adjustable bed to sitting or standing.
Some models also include a massage function which consists of a vibrating feature to gently massage the body which is not only relaxing but can also improve circulation.
Beds are easily operated by the occupant, and many models feature a multitude of settings to ensure the individual needs of the person in the bed are met.