All About Mattresses
by Lorena Benchis on Nov 23, 2011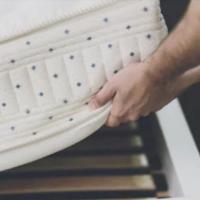 If you are buying a new mattress, you haven't bought one for quite a long time. Most people keep their beds for at least ten years and the changes in what is available as the industry develops new products can be overwhelming. 
To help you negotiate the options and start to appreciate the range from vacuum packed mattresses to pocket springs and memory foam, read on for an overview of how to choose the right mattress from what is out there…
First things first – don't even think about parting with any of your hard-earned money until you have spent some time in a showroom lying down on some mattresses. Spend a good ten or fifteen minutes on each one to get a feel for it, and don't be shy – lay down in the position you most comfortably sleep in.

How much do you want to spend? Specialists offer a range of options to suit all budgets so think about your finances before you start looking. If you are unsure then start by testing the cheaper models and work your way up to experience the differences.

Get technical. Ask to see a cross-section of the mattress so that you can see the interior's construction to gauge the product's quality and potential lifespan.

Think outside the box. Don't just replace like-for-like, have a look at a variety of makes and models because you may just realize that something you never thought of before is more comfortable for you.

Where are you putting it? Your new mattress may feel different when you get it home depending on the bed you place it on. Make sure they are compatible and if not then consider a whole new bed base too.

Read the terms and conditions. What is the guarantee that comes with the mattress? Will they unpack it when they deliver it, and will they dispose of your old mattress for you? All the important stuff.