Exotic Bedroom
by Lorena Benchis on Nov 18, 2011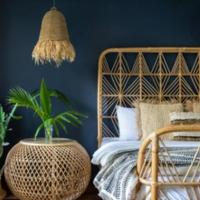 For so many of us, the bedroom is the one place in which we totally relax, and so the interior décor in this room is of course of the utmost importance. It's vital that you feel happy with the look of your bedroom in order to feel totally at ease, relaxed and peaceful.
If you are looking at ideas for a new look for the bedroom, whether for an old and tired bedroom or if you have recently moved into a new house and want to make the place feel your own, then there are plenty of fabulous looks out there to choose from. One of the hottest looks in interior design for bedrooms at the moment is the exotic look. The exotic look is all about exotic locations, animal prints, safaris, and ethnic style; perfect if you want to express your more wild and adventurous side or are simply looking to do something a little bit different with your bedroom.
To create the perfect exotic bedroom, you don't need to spend a huge amount of money or time. You can simply invest in a few key pieces to express the exotic look. Start by thinking about what colors you could paint your bedroom to really give it that exotic look and feel. Blues, reds, yellows, and greens all represent nature and create a warm and exotic look; it's a far cry from the minimalist look that has been so popular in interior design for so long.
Next to consider is the bedding as the bed is usually the item that the eyes are first drawn to in the bedroom. You could select warm Morrocan-style colors for the bedding, or animal print patterns to create that wild, safari look. If you take the opportunity to invest in a new bed as well, you can find plenty of fantastic double beds, as well as a whole range of wonderful bedroom furniture that will help you get that exotic look just right.
As well as your bed, consider how you can make the most of bedroom accessories and furniture to create the exotic look and feel you're after.
Exotic patterns and Moroccan fabrics will give your room the look you are aiming for, so search in vintage shops, second-hand stores, and online for authentic bits and pieces for your bedroom. Look for lamps and throws to add that exotic edge to otherwise plain items of bedroom furniture; you'll be pleasantly surprised at the amazing bargains you can find when you search for them!