DIY – Could Do Better?
by Lorena Benchis on Jan 20, 2012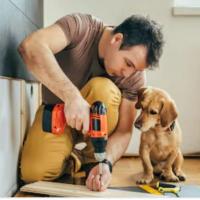 I know that this article is going to sound like your Mum or Dad telling you off for not getting a good school report, but I'll risk it. Even experienced DIY-ers know that in some areas they "could do better". Avoid an F for Fail, by taking note of these tips from the professionals.
Give yourself plenty of time, in the planning and carrying out of the task you've set yourself. Don't expect to get three-cabin beds up in a couple of hours. Get everything ready beforehand and work out in which order you have to do each part of the job. Use a tape measure and a spirit level, not your best estimate.
Pace yourself. Don't get too ambitious and decide to do a really complex project if you're a beginner. It's recommended to not attempt this if you've not yet put up a shelf. Sure, it may seem more glamorous, but the chances are you'll be feeling differently after a couple of weekends spent getting nowhere fast and sleeping on the sofa. Online videos on how-to websites can be really good sources of information, and may well be easier to learn from than trying to work out instructions from a DIY manual.
The same goes for tools: get the best you can afford for the job. In particular, you need a cordless drill and screwdriver. This makes every task quicker and easier; there's nothing more demoralizing than screwing everything in by hand. Don't go for the cheapest paint, varnish, or brushes. Budget-priced brushes have fewer bristles, which make an untidy finish, and they molt more than a mid-range brush, so you will be constantly picking bristles out of the paintwork. Buy decent screws. Cheap screws make every job more difficult. Start with these basic tips and you'll soon have a finished DIY project to be proud of.