Easy Solutions for Organizing Your Kitchen
by Guest Post on May 13, 2012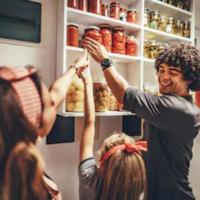 The kitchen should be one of the most organized rooms of the house for this is where you store and prepare your meals daily. A neat and organized kitchen makes cooking and the clean-up process as quick and easy as possible while freeing up your time for better things. Here are a few easy solutions that will help keep your kitchen organized and running smoothly.
Remove any items that don't belong in the kitchen and find permanent homes for them. This includes books, homework, car keys, purses, jackets, or any other items that tend to gravitate toward the kitchen adding to the clutter.
Consolidate what you have, and then either donate unused items, find a storage spot out of the kitchen or have a yard sale to get rid of them.
Install hanging racks for extra pots and pans to free up cabinet space.
Place a single hook inside a cupboard door to hang the colander.
If your oven doesn't have a broiler at the bottom, use that space to store cookie sheets.
Mount the spice rack on the wall to save counter space.
Hanging baskets are great for oven mitts, pot holders, and other small but commonly used items.
Use plastic storage racks on the inside of cupboard doors for plastic wraps and aluminum foil.
Keep a step stool underneath the sink in case you need to change a light bulb or safely reach something on a high shelf.
Get in the habit of storing cans with their labels facing out so you can easily see what they are at a glance. Keep like items together such as soups on one shelf and vegetables on another.
Use translucent, airtight storage containers to keep cereals, rice, pasta, and other dry items such as coffee, flour, and sugar organized but in plain view. This makes things easy to find and cabinet space is freed up without the bulky boxes and packages those items often come packaged in.
Loose packets of dressings and condiments should be kept together in one baggie or small container inside the refrigerator.
Keep a magnetic pad with a pen on the fridge so you can quickly jot down items that need to be replenished or replaced the next time you head to the store.
Have a separate set of cleaning supplies specifically for the kitchen so you don't have to run around to other rooms of the house such as the bathroom looking for your cleansers.
Small utility caddies can be hung inside cabinets or on the back of doors to keep dish detergents, scouring pads, sponges, and other cleaning items handy and in one place.
Your cooking area should be as streamlined as possible with the most often used items within easy reach. If you only use the blender during the holidays, then store it somewhere such as on top of the cabinets to free up valuable counter space. If you find that you use the measuring cups or spoons every day when cooking, then make sure they're in a drawer near the sink or stove and not kept somewhere across the room.
Submitted by: John Garland @taylorgifts.com