5 Reasons Why You Need to Hire a Cleaning Service for Your Office
by Guest Post on Apr 11, 2018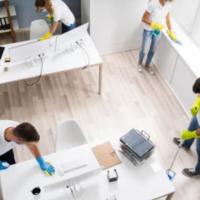 As much as we appreciate a clean and hygienic home, we also need an equally clean and healthy workplace. People spend the majority of their time in offices, so it is naturally important to keep it neat and organized. With a number of different people coming into the office, it is natural for everyone to require cleanliness. Commercial cleaning services are available everywhere now, and they maintain your office in a professional manner to ensure that no infections or allergies occur if the space is clean enough. Here's why you should consider hiring a cleaning service for your office.
1. High-Quality Cleanliness
When someone's job is to clean a place and leave it spick and span, you know they're going to be as professional as possible. When you hire a cleaning service for your office, you get to enjoy the benefits of top-quality cleanliness. With the proper equipment and supplies, a cleaning service like in damage repair locations will keep your office space free of any dust, dirt, or infection that could threaten the sanitation of your working area throughout the day. A cleaning service professional will also suggest tips to keep the place clean yourself so you don't always need to do too much work in the end.
2. Affordable
Cleaning services are not only great but also cost-effective these days. Based on the kind of service you choose, your provider will come up with affordable plans that will suit your workplace and your budget. You can hire a cleaning service as per your customizable requirements. There are a bunch of flexible options when it comes to regular cleaning of your office. It can either be daily or weekly based on how much prone to dust and dirt your surrounding is. Since there is a good amount of demand for cleaning services in today's times given the rising levels of pollution in the world, many cleaning services are emerging. Hence, the costs of hiring a cleaning service have become a lot more affordable and easily available.
3. Professional Dedication To The Job
Commercial cleaning services are as professional as they come. They will provide you with thorough cleanliness with their high-quality equipment and dedication to leaving a place looking and smelling great. With such dedication, you can rest assured that your workplace will be gleaming all throughout the week without you even having to put too much effort into it. Professionalism is important in every job and cleaning services are no exception to that.
4. Regular Dusting
If you've hired a professional cleaning service, expect regular dusting and mopping to ensure that whatever daily dust gets accumulated in the workplace can be eliminated as soon as possible. Since a lot of people from different means enter the office, it is obvious for all kinds of dust to find a permanent spot in your office. To minimize the possibility of that happening, a cleaning service will employ regular dusting to keep the place clean as possible so you don't have to face any dust allergies surrounding you all the time.
5. Sanitization
A cleaning service has high quality and professional approaches to cleaning any space they've been hired for. You can not only expect a regular, top-notch level of cleanliness in your office, but also sanitization which eradicates the probability of infections or bacteria making a home in your workspace. Sanitizing the workplace will make sure that there are fewer chances of your employees falling sick due to infections or bugs, so really, it's just a win-win situation.
A professional cleaning service makes sure that your working environment remains fresh and clean throughout the week. Not only do you never have to worry about a possibly unclean workplace, but you can also rest assured that your coworkers and employees feel comfortable and healthy in a place they spend most of their time. Hire your preferred cleaning service today!