The Natural Landscape
by Dan Eskelson on May 1, 2012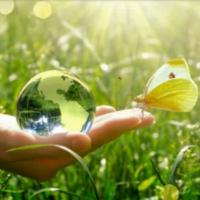 Common buzzwords these days are "natural", "organic", "environmentally responsible", "ecology" and other terms relating to how we tend to our environments. In the garden and landscape field, much has been written in recent years concerning our role as stewards of the land; what are the best strategies and techniques to ensure that the integrity and health of our surroundings are preserved for future generations? What is the natural landscape?
A natural landscape first considers each site as specific; that is, our landscape design decisions must be predicated on the conditions of our local surroundings and should enhance these surroundings. A good understanding of local climate, soil, and topography is the foundation for further landscape decisions. The natural landscape is inherently low maintenance because plant material is chosen for its adaptability to the site; native plants, or plants that have proven themselves locally, do not need extensive site modifications to thrive.
Plant material is also chosen for a natural, free-flowing form; severely pruned and manicured forms have no place in the natural landscape. The natural landscape often limits the size of lawn areas; turf grass requires a large investment in irrigation, food, chemicals, fuel, and mowing time. Often, turf is used only for pathways connecting different outdoor "rooms". Instead of large turf areas, the natural landscape uses native plants, ornamental grasses, hardy perennials, bulbs, wildflowers, and other well-adapted plant materials.
Plantings are usually in large, asymmetrical groupings, with bold color statements. Year-round interest is a prime concern for the natural landscape. Not everyone can utilize all the tenets of the natural landscape, but even the very small city garden can benefit from the basic principle of site specific plant selection and free-flowing design.