Add a Deck to Your Commercial Location to Increase its Value
by Guest Post on May 10, 2018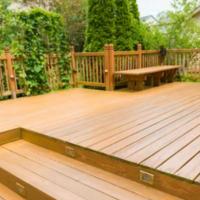 Are you the owner of a restaurant, nightclub, or other commercial location? If so, you may well be looking for a quick and easy way to make a rapid increase in your real estate value. You may be interested in improving its value to sell it, or you may have any number of other reasons in mind. No matter what your motivation for adding value may be, one thing is certain: You are searching for a major improvement that can be had in a short amount of time for a preferably small amount of money.
If You Want to Add Value to Your Location, Build a Deck
There are many reasons why you should consider adding an elevated deck to your commercial property. One of them is to take full advantage of a scenic view. If your restaurant or club is located near a mountain top, canyon, or body of water, you can view it all from the top of your deck. Better yet, you can invite your customers to enjoy a lunch or dinner party from this deck. The positive effect that such a view can have on your business is a potential game changer. It could increase the popularity of your establishment by an exponential level.
How Easy is it to Add an Elevated Deck to Your Property?
At this juncture, you may well be wondering just how much time and money need to be invested in a project of this magnitude. As it turns out, it's actually not hard at all to add an elevated deck to your commercial property. The advent of the world wide web has led to an atmosphere of increased competition among local service providers. As a result, you can enjoy better service for a price you can easily afford.
The Time for You to Hire a Professional Deck Installer is Now
Installing commercial decking in your restaurant or nightclub is much easier than you may think. The secret is to find a reputable and professional provider of deck installation services in your local area. You can use the power of the world wide web to aid you in this pursuit. A quick Google search, followed by a few minutes' worths of price comparison shopping, should tell you where to find the best deal for your dollar.