Can You Repair Your Air Conditioner Alone?
by Boris Dzhingarov on Apr 12, 2017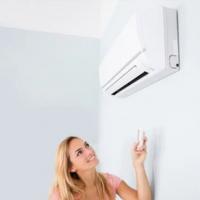 Air conditioners will never run forever and will not need repairs. There are many situations in which a repair is needed. Sooner or later you will have to contact some sort of ducted aircon specialists but the good news is that you can prevent many of the serious repairs and even do some yourself. Remember that the AC unit does come with a manual. In that manual, you can find a troubleshooting section. Before you contact the specialist or you do a repair alone, check the manual since you might find some solutions to your problems.
The short answer to the question above is YES but you have to be careful. In many cases the repairs are difficult. If you do not know exactly how an air conditioner works and you try to repair the unit alone, there is a good possibility you will do more harm. That is not something you want to see happen. Do consider the following.
When Can You Do The Repairs Alone?
Sometimes the AC unit repairs are incredibly simple. For instance, your remote control might not work anymore. This happens much more often than you may think. By simply replacing the batteries or buying a new remote the problem can be fixed. When the remote still does not work, checking how the unit is plugged in can help. Many electricity related problems are very easy to fix. However, do not start making modifications to the actual air conditioner electricity system since this is dangerous.
Make sure that you also check the exterior part of the system, the unit that is on the outside. Sometimes it is debris that causes the air conditioner to not work properly. Cleaning the fan is something that is normally really easy to do. This is something that you can try alone.
When Should You Contact Repairmen?
Generally speaking, whenever you hear some weird sounds or you have no idea what is happening, the repairmen should be contacted. Remember that when the air conditioner shows some weird sounds, it is normally a sign that a serious repair may be necessary. You will most likely not be able to identify the root of the problem and the system will only become more damaged as time passes.
It needs to be added that there is always some sort of necessary maintenance checklist that is to be done. Your manual will tell you how often the air conditioner should be checked by a professional. Respect that schedule to avoid potentially expensive repairs.
Conclusions
As you can see, in some cases it is easy to fix your air conditioner. However, in most cases, it is much better to contact a professional. Remember that there is a coolant agent that needs to be changed and various other maintenance tasks you most likely do not do. Working with a service crew is always a very good idea. Make sure that you do not let too much time pass until the unit is checked since the damage that develops may be really hard to fix.