Taking Your Professional Contracting Business Online Part I: Website C
by Guest Post on Jan 31, 2011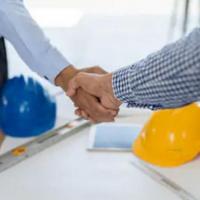 Building an online presence is making its way into the "must-do" category for small and local businesses, particularly as the internet evolves into a primary resource for finding information about local services.
If you are ready to take your professional contracting business online, the first step is – you guessed it – getting a website. Hiring a professional web designer is the best way to ensure that your site gives potential clients a positive impression of your business. You may be able to save a few bucks if you have a willing friend or family member who is a web designer, but whatever your approach, aim for a professional design with a consistent look and feel throughout the site.
In addition to ensuring your website has a professional appearance, you will also want to make sure you are providing necessary information so that potential clients are comfortable with your business and interested in learning more about your services. Some pieces of information you may want to include are:
A comprehensive list of services you offer. It is best not to make visitors guess whether you provide the type of work they are seeking. If you make it easy to find important information about your services, potential clients will be more likely to contact you for an estimate.
Detailed contact information, including a designated "Contact" page. Include an address, phone number, fax number, and contact form for users to submit requests for information or estimates on their projects. Additionally, ensure that your phone number and a link to your contact page are visible and accessible from any page of the site.
Quality photographs and descriptions of past jobs. Showcasing your work establishes credibility and shows visitors whether you have experience with the type of work they need to be done. Communicating your accomplishments will instill confidence in prospective clients and may even reduce the effort you have to put into winning their business.
Testimonials from existing clients. Positive testimonials from past clients about the quality of your work can go a long way toward acquiring future clients. In many cases, simply asking politely is all it takes to get a solid review or testimonial from a satisfied client.
Once you have a quality website live on the internet, you have likely already positioned yourself ahead of many of your competitors.
In Part II of this series, we will examine some ways you can market your website to help more prospective clients find it online.