Building a Basement for Your Home vs Moving
by Jason Mills on Aug 1, 2019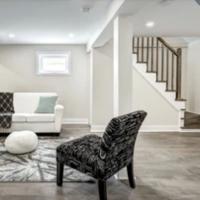 For many people, the thought of moving is one that fills them with dread. But for homeowners that need more space, they can often feel that upsizing is the only option. Of course, for some the chance of extending upwards or outwards is a viable choice, but for homeowners who are hampered by the existing building or local planning regulations then it can feel like you are being forced into an untimely move.
There is however another choice that more and more homeowners are turning to and that is basement builders. Whether you have an existing basement or not, the option of either converting a basement or building a basement could turn out to be a very astute choice when it comes to extending your home.
For those with outdoor space such as a large garden area – the options are even more plentiful as the basement doesn't even need to be built under your existing home. Imagine, a basement that sits under your garden with skylights that you can walk across – it may seem like a setting from Batman or a James Bond movie but it is a reality and one that may not cost as much as you think.
Moving home has unavoidable costs such as legal fees and estate agency fees whereas home extensions have planning permission costs and will change the external appearance of your property. With home extensions, you are often limited to the existing space of your property and have limitations on how much you can extend. Basements, on the other hand, have you have the advantage of being able to create more usable spaces as the dimensions will generally be bigger – it also makes no significant impact on the external appearance of your home – which often means no requirement for planning permission.
The cost of a basement build will depend on various factors, some of which will be outside of your control. However, the cost of building can be controlled using innovative technologies and construction methods such as Insulated Concrete Formwork (ICF) – a method that gives excellent insulation and cost-saving benefits.
If you are interested in finding out more about basement extensions then we would suggest finding a reputable basement specialist in your area.