What Happens If You Don't Fix Foundation Problems
by Tom Evans on Jul 25, 2019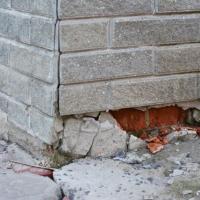 The lifespan of a building depends on several factors—and the foundation is one of them. Without a good foundation, it's hard for a building to stand the test of time, let alone natural disasters like floods and earthquakes. Though most homeowners understand this, very few can tell when their foundation has a problem that needs quick fixing. The common signs are visible cracks on the walls and floors. Other than this, you also need to watch out for a leaning chimney, water damage, sticky doors and windows, and uneven floors.
What Causes Foundation Problems?
In most cases, foundation problems are caused by low-density soils. If you build on a ground where the soil is not well-compacted, there's always the danger of suffering foundation damage. The other popular cause is poor drainage. When the drainage is bad, it's hard for the soil to remain compact. Thus, it's easily moved when the ground is shaken, resulting in foundation damage.
Other causes you should be aware of include:
Extreme heat accompanied by dry winds
A weak and uncertified foundation construction
Leaks from plumbing works and repairs
Deep-seated roots touching the foundation
What's the Solution?
After noting any of the signs discussed, it's important to seek professional help. Look for Professional foundation repair to have the problem fixed by certified and experienced foundation experts. Of course, the experts will first have to inspect your building to determine the extent of the foundation problem to suggest the best fix.
What If You Don't Fix the Problems?
Failing to fix foundation problems comes with more problems and challenges that need to be avoided. 
1. Poor Air Quality
A damaged foundation normally attracts water issue like mildew, mold, and other hostile fungi. Fungi usually affect your breathing when they are in circulation. They may trigger respiratory problems like asthma, nasal stuffiness, and throat irritation. In addition to the respiratory problem, the presence of fungi around the home could cause skin itchiness for sensitive skins and eye itchiness. Remember that fungi ruin the air quality and this makes your house uncomfortable for everyone.
2. HVAC Issues
Are you aware that the HVAC's performance can be affected by a bad foundation? Considering that foundation problems interfere with your indoor air quality, your HVAC system tend to overwork to keep your indoor air quality fresh and comfortable. This not only means high energy costs but also more chances of your HVAC unit developing hitches and failing in the long run.
3. Sinking Building
Before most buildings can collapse, the foundation has to first collapse. It's what holds the building in place. So, having a problem on your foundation may spell danger for the entire building. For a homeowner, there's nothing worse than a collapsed building. The biggest fear, in this case, is not just seeing your investment going down but also the prospect of lives being lost in the process. 
4. Financing Challenges
In case you had applied for a home financing loan, especially through the Department of Veterans Affairs (VA), your chances of getting it are slim if the building you are trying to buy has foundation problems. This is because the VA requires that a home is inspected first to ensure that it's structurally acceptable. So, the inspectors are likely to identify the issue if it's there. If you decide to seek financing from banks, then you have to deal with the prospect of high-interest rates.
5. Expensive Repairs
Usually, the costs of repairing foundation issues depend on the type of problem and its extent. Cracks, for example, may cost you $400 - $800 to fix while a sinking foundation may cost $1000 - $3000. In case you have to build a new foundation, you may spend as high as $40,000. The challenge is that minor problems are likely to become major if they are not fixed in time. Furthermore, major foundation issues will also impact other parts of the building such as the walls and floors.
Final Thoughts
Generally, foundation problems require you to act fast, especially if you want to save your building and improve its resale value. It's important to note that no foundation problem is trivial. They all need to be fixed by an expert before they can become something major and very expensive to fix. Hiring an expert is the only way you'll be assured of a functional foundation and building.