How to Measure a New Garage Roller Door
by Guest on Jul 28, 2022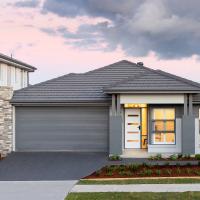 Benefits of a Roller Door
Shed and garage roller doors are seen in nearly every home. Built to last with Colorbond steel or even wood, the garage door protects your home and belongings. In a country of car lovers, the roll-a-door is the only thing that protects your car from the outside world.
But there's more to a roller door than just protecting your property. A simple upgrade of your garage door on your forever home may not seem like an obvious first choice, but it can make a huge difference. Installing a new Taurean or B&D roller door freshens up the facade of your home. If you're wanting to improve the value of your home, a Panelift door by B&D Doors or Taurean Door Systems improves the safety of your home. It also gives your home better curb appeal, increasing your home value.
A recent study by Remodeling Magazine showed that a Garage Door Replacement has a high ROI of 93.32% on home value. Homes without a garage are appraised at A$6,500-A$13,000 less than those with one.
Roller Door Terminology
You don't need to call your local garage door repairman or salesperson to measure your door. This can be easily done by anyone, including yourself. Before we begin, there are a few terms we want to make sure are clear:
1. Opening - This is the hole in your wall the roller door will cover and protect.
2. Sideroom - This is the space between the edge of your opening, and the garage/shed wall.
3. Headroom - This is the space between the edge of your opening and the ceiling (or roof).
How to Measure Your Garage Opening
1. Measure the width of your opening. In this example, the opening will be 2500mm, or 2.5m wide.
2. Measure the height of the opening. In this example, our opening is a standard 2200mm, or 2.2m high.
3. Ensure you have enough headroom. For a standard 2200mm high opening, you need at least 440m of headroom. The higher the opening, the more headroom you require.
For your roller door to fit snugly behind your opening, you need to add 50mm to the width. If your opening is 3400mm wide (3.4m wide) or more, you need to add 100mm. This will allow you room to install your garage door so it sits flush and looks great.
Now you know the size of door you require, have a look around locally and see if you can get a second-hand garage door. You can also get a new garage door delivered, made to order. Roller door prices online are very low compared to local garage door dealers. 
Get It Automated
Most people want to get their garage doors automated. A very popular option is to DIY install the roller door opener. Popular brands for this option include Merlin, B&D Doors and Auto Openers roller door openers.