A French Door Refrigerator for You
by Guest Post on Mar 29, 2011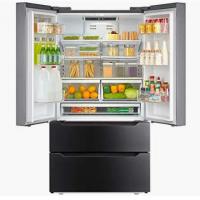 Are you considering purchasing a new refrigerator? If so, French door refrigerators could be the answer. It wasn't too many years ago when it seemed the only choices you had in a new refrigerator were the color and the size because most refrigerators were the standard freezer on top models. Later on, came side-by-side freezer/refrigerator models. Some of these came with ice and water dispensers built into the door. Then along came the very popular bottom drawer freezer model. Each of these models was an improvement from the previous, but French door refrigerators are the latest improvement.
The needs of a modern family go well beyond what they did even just a few short years ago. Functionality, ease of use, accessibility, and of course style and elegance are all just as vital considerations as are keeping food frozen and cold. French door refrigerators truly can make life in the kitchen simpler. And let's face it, kitchens are where families come together. French door refrigerators provide the convenience of a large, bottom drawer freezer that is accessible to anyone in the family. The freezer is the entire width of the appliance as opposed to that of a side-by-side freezer/refrigerator. This allows for the storage of large dishes or boxed frozen foods. French door refrigerators have the advantage of two doors for the refrigerator portion of the appliance, which allows for maximum viewing and accessibility of the contents. French door refrigerators can also provide a variety of storage possibilities with adjustable or removable shelving and shelves that slide back and forth.
French door refrigerators certainly utilize the function of built-in ice and water dispensers on the door, but today's innovations and advances in technology have allowed for so much more. For example, a family has the choice of crushed or cubed ice of varying sizes. In addition to just tap water, French door refrigerators can come equipped with a state-of-the-art water filtration system, providing you and your family with safe, clean, great tasting drinking water.
Energy efficiency is another consideration. French door refrigerators can come equipped with computerized temperature controls, the best insulating features, and other design innovations that will allow you to run the appliance for less money. Have you ever accidentally left a refrigerator door slightly ajar? Some of these appliances come with audible alert tones notifying you of just such a thing.
French door refrigerators are a very nice looking appliance for your home. The modern stylishness and sophistication are certainly part of what has made them so popular. The look and style offered will certainly add appeal to any kitchen. Your kitchen will have a modern look to it with one of these appliances. Ease of use, practicality, efficiency, and beauty are all incorporated. If a new refrigerator is in your future, then French door refrigerators may be for you. They have a variety of benefits that are sure to help your family with all of their refrigerating needs. Best of luck as you make your purchase.