How Can You Install Kitchen Cabinets Easily?
by Guest on Aug 11, 2010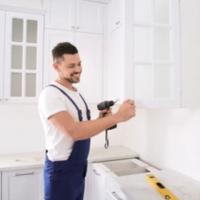 It is never easy to remodel your kitchen because unlike just designing your kitchen for the first time, you will not be furnishing an empty place. All the remodeling requires good planning and then finding out the right cabinets as you had planned according to your budget and getting them installed. On the last leg of the journey, it is important that you get the cabinets installed easily.
There are some ways to get this job done easily:
Give the salesman at the showroom a good idea of exactly what you want and where you want to place it. If possible it is advisable that you draw a sketch of the layout of your kitchen along with the measurements of the kitchen cabinets required and the space available for it. A photo or a sketch will give them a clearer and more concrete idea of the cabinet required.
Make sure you tell them the color of the cabinet so that they do not end up delivering some other color of kitchen cabinets in place of the ones you had actually ordered.
As you receive the delivery of the kitchen cabinets make sure you thoroughly check out the various parts of the cabinet and if they are in proper condition. Check out the doors and handles and also see if there is any dent or scratch on the wood anywhere.
Some companies offer both services of dismantling the older cabinets before they fix the newer cabinets. Contrary, some other companies expect you to dismantle the older cabinets yourself before they can fix the new cabinets themselves. Either way, the installation of the new cabinet is their responsibility.
Dismantling the older cabinets and installing new cabinets is a noisy and chaotic process. You have to prepare your kitchen space well before the delivery will be made and to ensure that your daily chores do not get interrupted, you can dismantle the older cabinets before the newer ones come. Remove the contents of the old cabinets and keep them away from pets, faucets, and flowing water.
Plan the remodeling when you have free time at home and there is another adult member to supervise the whole thing.