Things to Consider When Buying a Washing Machine
by Guest on Mar 29, 2011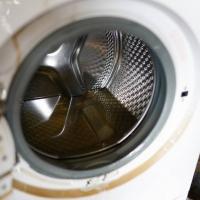 If you are in the market to purchase a new washing machine, you should look into front load washers. Although there are many different styles and types of washing machines out on the market, these can be a sure bet. It can be a bit confusing when it comes to making the actual purchasing decision so you should make sure that you have done some research first. In order to make this decision easier for you, here is a list of reasons why you should carefully consider purchasing front load washers as opposed to vertical washing machines.
Vertical washers do a pretty decent job when it comes to washing clothes and making them clean to wear. The biggest component of a vertical washing machine is the agitator that is located in the center of the drum. This agitator is the driving force that tumbles the clothing in order to get them clean. The only problem with this design is that large amounts of water, detergent and energy are required in order to operate this type of washing machine. Front load washers don't use nearly the same amount of energy and resources that are required to run a vertical washing machine. For this reason, front load washers are becoming the preferred washing machine design for new consumers. How do front load washers use less energy and resources in order to clean clothing effectively?
The way that front load washers accomplish their jobs is through the force of gravity. Simply designing the front load washers to run on a horizontal axis instead of vertical access completely changes its function. On horizontal access, there is no need for an energy-sucking agitator as rotating the drum allows gravity to do its job. When the drum rotates, gravity causes the water and clothing to tumble and swish around. These motions effectively clean the clothing instead of having to use excessive amounts of energy to run any other types of motors. Since there is no agitator in the middle of the front load washer's drum, more laundry can be fit into the drum allowing the user to wash larger loads. Less water is needed for front load washers because gravity effectively gets the clothes wet and clean with less water.
Laundry detergent is not cheap, but you can actually use less of it when using front load washers. The reason for this is that front load washers use less water. This means that you can run larger loads of laundry with less detergent, which can make your detergent last much longer. Longer-lasting detergent translates into savings as you won't have to buy laundry detergent as often as you did in the past. The simple design of a front load washer makes them vastly superior to the vertical washing machines that people have been using for many years. If you are looking to save some money, frustration, and use less energy, front load washers are something that you should definitely consider when buying a new washing machine. These machines are definitely worth the money as they will end up saving you money every time you throw a load of laundry into the drum to be washed.