Effective Methods for Eliminating the Slipperiness on Marble Floors
by Nick Marr on Nov 8, 2021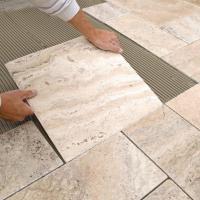 Marble is a very popular material when decorating. You'll find marble work surfaces, tiles, and even flooring. Most houses have some form of marble in them. But, marble is also very slippery, making it a trip hazard and not a good idea in a home, especially if you are aging in place.
This is why many people are considering ripping up their marble floors and using epoxy floor coatings instead. This type of flooring is cost-effective, very durable, and naturally non-slip. You can even add a compound in the mixing process to make it have an even better grip.
Alongside this, epoxy flooring is available in many colors and patterns, ensuring you can find the perfect combination for your home.
Although epoxy flooring is the ideal solution for removing slipperiness from marble floors, it isn't the only option. The following can work even if you want to keep the flooring as it is.
Remove Spills
Water on a marble floor is incredibly slippery and is usually almost invisible. That's why you should remove any spills immediately and make sure the floor is dried properly.
This can dramatically reduce the likelihood of you falling over.
Cleaning Your Floor
Another top tip is to make sure it is cleaned regularly. Marble is porous, which means the majority of anything spills soaks in quickly, leaving a light slippery coating that is both slippery and sticky. This is also how you stain marble floors.
Cleaning regularly eliminates these issues and ensures the floors are okay to walk on. Of course, when cleaning makes sure you dry the floor thoroughly afterward.
Anti-slip Compounds
If you take a look in your local hardware store you'll find there are an array of products designed for marble floors. They can be applied to the floor when mopping and will absorb into the porous surface. The compounds are designed to give more grip to the surface, helping to prevent spills and trips.
You can purchase these as a specific anti-slip compound or as part of your regular cleaning product. The decision is yours as both approaches are effective but including it in your cleaning compound may mean you apply it more regularly.
There is even a water-based varnish that can be used for the same effect.
Gripped Shoes
If nothing else appears to be working then you can get shoes with rubber grips that work effectively on marble floors. Simply keep pairs of shoes by your door and change them every time you come in. The rubber-soled shores are like slippers and will help to prevent you from falling, no matter how slippery your marble floor gets.
Mats
There are plenty of rubber mats on the market that can be put on marble flooring and prevent you from slipping over. You like the floor so don't want to cover it all. But, you can add mats at the key risk areas to provide additional grip and reduce the chance of accidents happening.