How a Convection Microwave Works
by Guest Post on Mar 29, 2011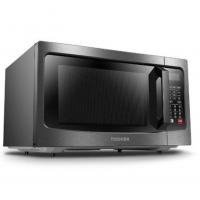 If you haven't looked at microwave ovens for a few years, you may not even realize that there is such a thing as a convection microwave. You have probably heard of the convection ovens that all of the chefs on cooking shows prefer to use. A convection microwave uses these same principles to brown, crisp, bake, and broil foods while still using the added speed associated with the microwave oven. For simple reheating of foods, the conventional version works quite well, but for the person who likes to create while cooking, the convection microwave is a better choice.
A convection microwave works by using a fan to circulate the hot air evenly throughout the oven. This means that there won't be burnt edges on your poultry as a result of trying to cook a thicker, middle section. Another advantage of the circulating air of the convection microwave is that you won't have cool spots when you reheat cold leftovers. If you're someone who doesn't like hot edges on a serving of re-heated lasagna only to find that the middle is cold, then this can be eliminated through the air circulation of the convection microwave.
Another benefit the convection microwave provides with its circulating air is the ability to cook at lower temperatures. Because the hot air circulates within the oven, the insulating layer of cool air that is present in a conventional oven is removed. The hot circulating air causes the food to bake and brown evenly. With the lack of a cool air layer surrounding the food, one can cook foods perfectly well with the convection microwave at a lower temperature than conventionally. Lower temperatures generally mean lower energy costs as well. This is also true about the cooking speed of the convection microwave, since shorter cooking times also translate into energy savings.
If a person loves to bake but doesn't have space for a conventional stove and oven, then a convection microwave is a great option. A convection microwave comes in a number of sizes and models that are available. One can find just the model that will fit her spatial needs as well as her baking needs. The versatility provided by a convection microwave means that microwave dinners and reheated leftovers are no longer the main options. Your imagination and cooking skills now become the limiters to your culinary delights.
The convection microwave oven allows one to bake cakes and cookies as well as to brown meat beautifully, even crisping up bacon to perfection. Broiling was never easier or quicker than with a convection microwave. The microwave radiation heats up the polarized molecules that are inside food at a relatively even rate, which is why the food is heated quickly. However, a conventional microwave is not able to brown or bake foods in the way a convection microwave can.
For people who like the ability to bake and brown foods as well as the convenience for speedy cooking, having an appliance like the convection microwave that has multiple features is very important. As you can see, all of the options that most people use two or three appliances for can all be consolidated into one with the convection microwave.