Care and Cleaning of Slate Floors
by Michigan State University on Apr 27, 2012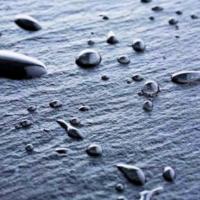 Care
Slate is a porous stone material, so it should be sealed. Get a special stone floor sealer from the flooring dealer or building supply. The sealer penetrates the upper surface of the slate and protects it from soil and scratches, and grease.
Cleaning
Slate floors can be washed with a detergent and water solution, and rinsed well. They are not damaged by alkali cleaners, but strong solutions are not needed for cleaning. A water-based, self-polishing wax can be applied over a clean, dry, sealed floor for extra protection and shine. Weekly damp mopping with a barely damp mop on a waxed floor will keep it clean for quite a while before the washing with detergent is needed.
If one has an electric polisher, solvent-based polishing wax may be used to clean and wax. This must be buffed.
Slate Cleaning Tips
Make sure you buy a good quality dust mop and make sure it is not oil-based. You can find a variety of such mops at most home improvement stores or janitorial supply stores.
Depending upon the location of your slate floor and the amount of traffic, it may be necessary to dry-mop the floor every day, making sure to take the mop outside after every use and give it a good shaking.
Strategically place doormats outside the area where your slate floor is located so that people will at least wipe their shoes thoroughly before stepping on the slate. If at all possible, avoid wearing shoes on the slate altogether.
Avoid rubber-backed mats on slate floors as the rubber may stick to or damage the slate.
It's okay to vacuum a slate floor, but you must use ONLY a soft brush attachment and you must be very careful not to bang or jerk the vacuum cleaner on the floor as it may cause chipping, scratches, or other damages.
An Ounce Of Prevention…
One of the best ways to keep your slate floors looking their best is to apply sealant.
Stone and Tile Sealant can be found at most stone/tile retailers. You should apply two or three coats of the sealant, following the directions on the label, but waiting at least 30 minutes between coats. Generally, the sealant should be applied using a cotton string mop.
Once the sealant dries thoroughly, be sure to maintain your floor regularly as noted above.
Slate-Safe Cleaners
DO NOT use any type of cleaner that has an acid-base (even natural types, such as vinegar). This will damage your floor and may result in costly repair or replacement.
There are many cleaners to choose from, some of which are specifically designed for slate floors, many of which are "rinse-free" and therefore will not leave a dull residue
Mild detergent (such as the type you use to wash your delicate clothes) works fine and is not as costly as some of the specialized cleaners.
Going Green: Many companies now make environmentally friendly laundry detergents that will work quite well on slate floors. Also, when it comes to regular cleaning of slate floors, plain warm water works fine, and a few things are more environmentally friendly.