Know Your Options: Hardwood Flooring Explained
by Guest on Jul 27, 2013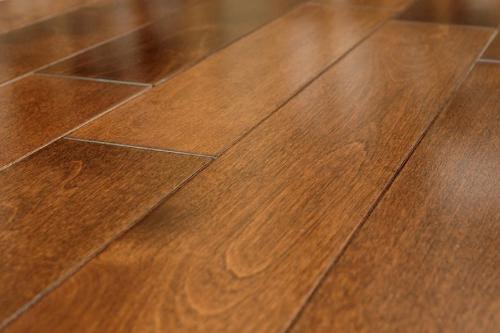 If you need a home improvement project that is sure to give your home a better look and raise its value on the home market to boot, investing in hardwood flooring is an excellent way to go. Not only are hardwood floors genuinely beautiful in a timeless way, but they are also natural and environmentally friendly, too. Hardwood floors can last a lifetime with a reasonable amount of care. Best of all, they come in an incredibly wide range of styles and colors to suit every aesthetic.
You need to consider two factors in making your purchase decision
Many people tend to get floor type and wood variety mixed up when shopping for hardwood floors. These are two separate qualities of wood floors, though. When you need to decide on the wood variety that you like, you look at the kind of tree that you would like your wood to come from. You choose from among oak, maple, birch beech, pine or ash among other choices, depending on the kind of color and wood grain that you like.
Whatever variety of hardwood you choose for your flooring, you can have it cut and laid out in an installed in a variety of floor types.
Your choices of floor type
Solid wood flooring – Choosing this flooring type gets you a thick, authentic hardwood floor. You get to choose from three basic installation styles:
Plank flooring – Your wood arrives cut in thick planks that are either a half-inch thick or three-quarters of an inch thick. Each plank can be anything between 3 inches and 8 inches wide.
Strip flooring – With this kind of flooring, you have a choice of several thicknesses up to three-quarters of an inch. Since these are "strips", though, the individual pieces are usually no wider than 2 ¼ inches.
Parquet – While strip flooring and plank flooring are done with long pieces laid down in simple parallel fashion, parquet flooring brings in a bit of variety. The wood comes cut in specific tile lengths and installation involves placing them in complex geometrical patterns.
Engineered wood flooring: Engineered wood flooring isn't the same as the laminate flooring. With laminate flooring, you simply get tiles made of synthetic material that have wood-like patterns printed on them. Engineered wood flooring, though, is real wood. The "engineered" part comes in where the wood is coated in plastic veneer to protect the finish. It tends to be low maintenance.
Choosing the right wood variety
Many people take the term "hardwood" rather literally. They believe that using hardwood gives them wood that's hard. The term, though, is only something that is used to classify wood from a certain group of trees. Many hardwoods like cherry are softer than softwoods. A little time spent on home improvement sites like 411homerepair.com can help clear up such questions.
You can get different levels of hardness and resistance to wear in your floors with different varieties of wood. White oak and red oak are among the hardest and most popular kinds of hardwood used in flooring. These woods have rich swirl and burl patterns and have universal appeal.
If you live in a place that's prone to insect infestations, floors made of pinewood can be a good idea – Pine resists insect damage. It is also prized for its beautifully complex grain.
Making the purchase
Hardwood flooring is sold by the square foot. The budget end of the market starts at about $1 a square foot covered – a quote that includes installation. Expensive woods like tend to cost several times as much.
If you would like an objective scale by which to measure the quality of the hardwood you get, you should consult the NOFMA grading scale. The best-rated woods on this scale have a clear and consistent appearance.