Porcelain Ceramic Tile Is Back in Style
by Pavel on Dec 20, 2016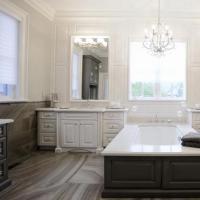 Ultra-thin, large-format porcelain tiles are a new tile type in the industry, and this "Thin Porcelain Tile", as professionals in the industry named it, has been rising in popularity throughout the year. These types of tiles have distinctive mechanical properties and a unique format and are useful in a variety of situations.
What Is Thin Porcelain Tile?
Like traditional tiles, thin porcelain tiles come in a variety of styles and colors. They are durable, hygienic, and easy to maintain. However, they are much thinner than traditional tiles, ranging from thicknesses of about 2.5 mm for walls to about 6 mm thick for floors.
Just as durable as its thicker counterparts, thin porcelain tile's narrow profile creates a lightweight and flexible surfacing solution for floors, walls, and countertops. It's actually one of the most versatile surfacing products on the market, offering a range of advantages, including the ability to install over the existing floor and wall tiles (this eliminates having to rip out existing finishing materials in renovation projects, saving on renovation waste and time and money in labor costs).
Thin tiles can be used to finish walls; they can also be used for flooring, kitchen and bathroom countertops, kitchen sinks, and surrounds for fireplaces. Very thin tiles can also be used to finish tables, stairs, doors, and desks.
The tiles can also be used outside for house siding as well as for sidewalks, terraces, driveways, swimming pool surrounds, and counters for outdoor cooking areas. What's more, the colors will remain bright, even after years of sun exposure.
Advantages of Thin Porcelain Tile
Thin porcelain tile's mechanical properties are some of the best things about it. The majority of brands are 100% natural and recyclable, scratch- and fire-resistant, easy to clean, and waterproof.
Though it would seem that such thin tiles would be brittle, they are actually extremely resistant to damage. Dropping a heavy object on a traditionally manufactured tile can crack it, but thin porcelain tile is extremely crack-resistant, a feature of the manufacturing process. They are also very scratch and stain resistant, so anything spilled on them does not have to be cleaned up right away.
Because of their large size, thin porcelain tile is very fast and easy to install. It can be placed over the existing tiles because the tiles are so thin. No demolition means that it's not messy, and the work goes quickly because you have fewer tiles.
Thin porcelain tile is also extremely eco-friendly. Since it's thin enough to be laid over existing floors, fewer materials end up in landfills. The tiles are very durable, which means they'll last longer, and their lightweight means they do not require as much fuel when transporting them. As many of the colors are made from recycled materials, the material itself can be considered green.
When you see these supersize tiles in someone's house for the first time, you may not even realize you're looking at tile. Unlike small, traditional tiles with grout lines running everywhere, big tiles hardly have any grout lines, and the few that are there are nearly invisible. This can help a small room appear larger. Used vertically on walls, the tiles can help add height and openness to a space.  
Colors, Styles, and Finishing Characteristics
The design capabilities of these super-sized panels are endless and the looks can span the range from sleek and modern to rustic and traditional.
The color offerings of the tiles favor grays, beiges, browns, creams, charcoals, and whites. Some of the tiles are solid colors, but others are patterned, mimicking wood, concrete, textile patterns, metals, and natural stone. The marble-patterned tiles resemble the real thing so well that even a geologist would be fooled.
Surface finishes can vary between soft matte and highly reflective gloss. Different styles of surface finish are available, from completely smooth to an irregular "gentle relief" style, "bush hammered" with a surface that is uniform and bumpy, and containing deeper "hand-tooled" gauges to give the appearance of a hand-made tile.
Thin porcelain tile may be a fairly new product, but it is gaining popularity because of its many benefits. Don't be surprised to see these unique tiles more and more in and on buildings everywhere.