Winterizing Fish Ponds
by Dan Eskelson on Apr 30, 2012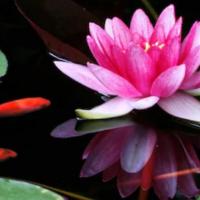 "What do you do with the fish in the winter?"
We explain that ponds take care of themselves by reducing their metabolism to a very low level and just "hanging out" near the bottom of the pond. As long as the pond is two feet deep, and a small hole is maintained in the ice, they will be fine.
Since the pump runs 24/7/365, the area under the falls will stay free of ice until it gets *real* cold - like below 0 deg. F. I added a small bubbler pump near the skimmer to keep that area open also. When we had several days below zero, I removed the pump from the skimmer and laid it on its side on the first shelf - the right-angle output fittings directed a very strong flow of water to the surface, keeping an even larger hole open. I doubt that it will ever get so cold here that we would need to use an electric heating element to keep an open area.
One of the best features of the aquascape Pond Kits is their use of flexible PVC pipe...I had never seen it before but was told that it could withstand any amount of freezing without damage. Though I was skeptical, it held up fine after I removed the pump and water sat in the pipe, frozen solid, for a week or longer...amazing stuff!
All in all, wintering with the pond was easy...being the first winter, I was unsure of exact procedures, but I knew that as long as I kept a hole in the ice, our fish would be fine.
The early spring cleanout was a fairly easy chore. Using the aquascape pump with additional fittings and a long discharge pipe, we pumped the pond almost dry. I wrapped a filter of fine mesh screen around the pump inlet area so the small baby fish wouldn't be pumped out. When the water level had gone down to about six inches, the fish were netted and placed in buckets of the pond water.
I hosed down the rocks and gravel and pumped out the dirty water...only about one quart of semi-solid "pond scum" needed to be removed by hand. I removed all the filter media in the biofalls and skimmer, hosed it thoroughly, and replaced it. After refilling the pond, we floated the buckets of water and fish in the pond for about half an hour to equalize water temperature - then the fish were let free in the new water.
The entire clean-out process took about five hours. This is the most time-consuming chore for the pond keeper, but only is required once a year, usually in early spring. In our opinion, it's a very small price to pay for many hours of enjoyment.