10 Essential Questions to Ask During a Sunroom and Lanai Consultation
by Tierney Clifford on Jul 24, 2023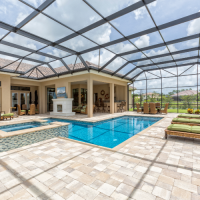 When considering the addition of a sunroom or lanai to your home, a consultation with a professional lanai contractor is crucial. This initial meeting provides an excellent opportunity to gather essential information and gain a comprehensive understanding of the project's scope, cost, and feasibility. To ensure you make informed decisions and achieve the sunroom or lanai of your dreams, here are ten crucial questions to ask during the consultation.
1. What Types of Sunroom/Lanai Designs Do You Offer?
Understanding the different design options available is vital. Inquire about the various sunroom and lanai styles the contractor specializes in, such as solariums, conservatories, screen rooms, or four-season rooms. This will help you choose the best fit for your specific needs and preferences.
2. Can You Provide Examples of Past Projects?
Ask the contractor to showcase their previous work through pictures or virtual tours. This will give you a better idea of their craftsmanship, attention to detail, and the quality of the materials they use.
3. What Are the Permit Requirements for Building a Sunroom or Lanai?
Permits are often necessary for construction projects. Ask the contractor about the local building regulations and permit requirements. A reputable contractor should be well-versed in obtaining the necessary permits on your behalf.
4. How Do You Handle Customization?
If you have specific ideas or unique requirements for your sunroom or lanai, inquire about the contractor's ability to accommodate customizations. A skilled professional should be willing to work with you to create a personalized space that suits your lifestyle.
5. What Materials Do You Recommend for Sunroom/Lanai Construction?
Understanding the materials used in the construction process is essential for ensuring durability, energy efficiency, and aesthetics. Discuss the advantages and disadvantages of different materials, such as aluminum, vinyl, or wood, and how they impact the overall project cost. 
6. Can You Explain the Project Timeline?
Get a clear understanding of how long the project will take, from design and planning to completion. Understanding the timeline will help you plan accordingly and set realistic expectations.
7. How Will You Address HVAC and Insulation Needs?
If you plan to use your sunroom or lanai year-round, inquire about heating, ventilation, and insulation options. Proper HVAC systems and insulation are critical for maintaining a comfortable indoor environment in all seasons.
8. What Are the Maintenance Requirements?
Ask about the maintenance needed to keep your sunroom or lanai in top condition over the years. A professional contractor will provide guidance on lanai cleaning, upkeep, and any potential repairs.
9. Do You Offer Warranty Coverage?
Inquire about the contractor's warranty policies for both labor and materials. A reliable contractor should stand behind their work and offer reasonable warranty coverage to protect your investment.
10. Can You Provide a Detailed Cost Estimate?
Lastly, request a comprehensive cost estimate that includes all aspects of the project, such as labor, materials, permits, and any additional charges. A transparent and detailed lanai installation estimate will help you plan your budget effectively.
A sunroom or lanai can be a valuable addition to your home, providing a relaxing space to enjoy the outdoors while still being protected from the elements. Asking the right questions during the consultation with a professional contractor will help you make informed decisions, ensure your project runs smoothly, and ultimately create the perfect sunroom or lanai that complements your lifestyle and enhances your home's value.