5 Easy DIY Home Repairs Everyone Should Know
by Guest on Apr 11, 2018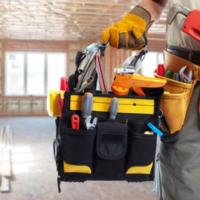 Hey there! Planning to buy a house or looking for ways of cost-cutting for the new SUV? Well no matter the reason, everyone has household chores to complete. Now, not many would include repairing and maintenance as one of them, it sure comes in handy when you could repair that leaking tap and be a hero by saving water and rewarding yourself with a little something extra by not spending on the professional plumber. Here is a look at a few DIY (Do It Yourself) home repairs that everyone should be aware of.
1. Fixing Leaky Taps
Since we had already begun as a conservationist it is fair that we abide by our part. Leaky taps need to be repaired as soon as they could be to avoid water wastage and waiting for your plumber might not be the right direction to proceed. Most taps can be self-repaired at the ease of using a few simple tools. Most taps have a similar three to four-layered principle. The outer cap, the long body washer, O-ring, and a jumper valve. Once you have unscrewed your tap and figured out the probable issue, replacements should be easy to find and the repair must come in really handy.
2. Repairing Loose/Short Circuited Switches
As far as repairing electrically active circuits is concerned it is better to remain on the safe side but repairing a minor short circuit or loose switches to get the tube back on will not hurt much and are quite simple. Don't forget to initially switch off the main supply powering the circuit board and then head on to unscrew the board to check for burnt wires or loose endings. A burnt wire or loose screws on switches are usually the main reasons and just replacing the fuse wire and tightening the screws must do the job in a lot lesser time and absolutely at no extra cost.
3. Replacing Doorknobs
It is not quite a sight if someone unknowingly entered your room at a time they certainly shouldn't have and the blame has to be thrown upon a broken doorknob that wouldn't just lock. Doorknobs are simple to fix and fit like LEGO blocks do. All you have to do is grab a four-ridged screwdriver or as per the screw type and unscrew the knob off the door. Get a new knob the same size as the earlier one and start placing each component in the exact reverse order of how you pulled each one of them out of their places. 
4. Leaky Tiles and Corners/Edges
This might sound hard and seem like only a mason's work but you might realize that saving the extra bucks for this work was quite worth it. Leaks through tiles and edges are mostly due to the gaps left out between them which isn't always a constructor's fault since they are bound to occur sooner or later. This simple procedure is known as waterproofing and all it requires is the addition of waterproofing materials which is usually in the form of adhesives and self-solidifying pastes to fill the gaps and even them out because aesthetics do make for a better DIY impression.
5. Repair Cracks In Walls
IS your building getting old and all that worries you are the ingrowing wall cracks? Well, it is nothing unusual and can be repaired with absolutely no prior expertise. All you need is a wall putty and some paint to make it look better. Just evenly rub out the wall putty paste on the cracks and let them dry. You don't want your walls to have wound patches of white making them look ugly and hence the best way to cover them up is to put up posters or painting over them.
Though it is not mandatory for you to know all of this while managing around the house it sure does give you some additional qualities as the one who can do the repairing around the house while saving your wallet from a hard hit. Maybe you as well end up having fun repairing around.