How to Prepare Your House for Winter
by Guest on Jun 21, 2016

.Winter can cause damage to your house if you aren't properly prepared. Preparing yourself for winter is simple. All most people need are gloves, scarves, and a heavy jacket. Making sure your house is ready for the winter weather involves other tactics.
Before winter overtakes your area, it is best to create a checklist of everything that needs to be done before the first approaching cold snap. You should be prepared for the cold, not just snow. You may wonder why preparing your house for winter matters. Your heating bill will skyrocket in a house that isn't ready. Here are some things you should include on your list.
1. Seal Any Leaks
Drafts during cold winter will make your heating bill increase. Check all of your windows for gaps in the caulking. If you find any, this is a simple fix; you can re-caulk any gaps.

Weather strips around your door can be popping up. These wear out over time from the constant use. If they are worn out, most hardware stores sell replacements. Ideally, you want to keep warm in and cold air out.

If you have pipes that run through any exterior wall, place caulking or insulation around the entry points. This prevents cold air from seeping into the house. Cold air will find any crack to escape. This means your heating system will have to work harder to ensure your house stays a comfortable temperature.
2. Attend to the Fireplace and Heating Systems
Fireplaces can need cleaned by professionals before wintertime. The vents can need cleaned. Without proper care, fires can start due to chimneys or lead to carbon monoxide creeping into the house.

Your furnace can need some care before winter. Furnaces need cleaned yearly because dirt, dust and sediments can build up over time. This means your system won't work as efficiently as it should. Filters should be changed every few months. A cleaned furnace requires less work on the system and reduces future costs.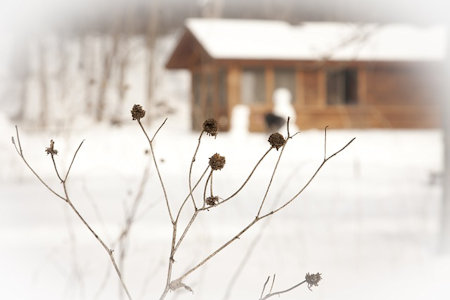 Image Credits bairli1, CC0 1.0
3. Prepare the Plumbing
When the garden season comes to an end, it is important to drain the water from any outdoor faucets. Remove the garden hose and place a cap over the exposed drain. The best place to store a garden hose is inside; the cold weather can damage it. If you have lawn irrigation system, it will need drained. This will help prevent leaks and freezing.

If you have any pipes that are prone to freezing, it is important to use heat tape around them. If you experience any extremely cold days, it is a good idea to let a faucet drip or slowly run. This prevents pipes from freezing. If you experience a frozen pipe, call an emergency plumber immediately. A frozen pipe can burst which will result in an expensive repair.
4. Winter Supplies
Once winter begins, you will need supplies to deal with the snow and ice. Too much moisture and freezing temperatures can lead to more cracks in concrete. Every house needs snow shovels and salt to melt the ice off of sidewalks and driveways. Some people prefer to have a snow blower. Either way, figure out a plan for snow removal ahead of time.
5. Clean the Gutters
Over the year, gutters can fill up with leaves, dirt and debris. This can cause water to back up which can damage the roof, siding and trim of a house. If you aren't afraid of heights, this is an easy fix during a pleasant afternoon. If you feel the house is too tall, there are plenty of companies who provide this service for a minimal fee.