4 Home Repairs You Can Do on Your Own
by Alex Schnee on Jan 31, 2018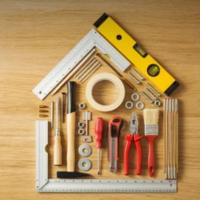 Have you ever had issues with your home and have been tempted to give it a shot yourself? The good news is that many home repairs are possible to complete on your own, and you do not necessarily need to be handy to do it. While some problems might be too much for you like a broken air conditioning system, others you can easily do within an afternoon.
Here are 4 home repairs you might want to consider doing yourself the next time your house needs to be fixed.
1. The sink
Repairing a sink can be a much easier project than you might realize. It can seem intimidating because you'll most likely have to shut off the water and buy some tools that can help you, but overall it often just takes time to identify exactly what the problem is and how to make repairs. Make sure that before you do any job that involves plumbing you take the time to turn off the main water system. You can make a problem with your sink much worse if you don't double-check to see that everything is shut down!
2. Painting
Hiring a painter to come and take a look at your home can be expensive, especially for a job that you can do yourself. Taking care of details is the key to finishing a quality painting job, and you'll have to be careful about not getting paint on valuable furniture. Make sure you have some painting tape so you can create perfect edges and so you know where to use your paintbrush or roller. Painting your home yourself can save you hundreds of dollars and can be a lot of fun too.
3. Walls
Before you think about painting, you'll want to make sure that your walls are in decent shape so any bumps or dings will be covered up. You don't need to have experience with dry walls to be able to smooth over some of the holes or bumps you have made. You'll want to invest in some quality spackle and make sure that when you are covering those holes you cover them smoothly. Having walls repaired can make your paint job look good and as though it was done professionally.
4. The toilet
Everyone should know how to fix a toilet and many are surprised by how easy it can be. You'll want to see first what is causing the problem and why it isn't flushing properly. Oftentimes, all you need to do is unplug it by using a plunger. However, you might also have to check the top of the toilet and see what is going on inside there. You can have some problems with the levers and they might need adjusting. If you are having trouble with your toilet, you can often fix most of the issues by doing these two things.
Repairing your house can be a fun project and can be much easier and cheaper than you might expect. Before you give your repairman a call, see if you can do it yourself and save some money. You might be surprised at what you can do!