Why You Should Hire a Plumber for Your Bathroom Renovation Project
by Maksim Pankov on Dec 20, 2018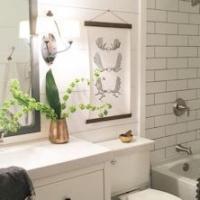 If you're thinking about partially or completely remodeling your bathroom, you must hire a professional plumber. Doing it yourself is not an option unless you have a lot of experience with plumbing and remodeling, which is not the case for most of us.
Some of you like DIY projects but in that case, it is always better to have a true professional by your side. The water line, the piping, installing a new faucet or a new bathtub…it is better handled by skilled plumbers. You may have heard some horror stories about friends or colleagues trying to do it all themselves only to find out that they need to call a plumber to fix the mess they contributed to creating!
Working with a qualified plumber throughout your entire project will save you some headaches and potentially a lot of money too. They will check your existing plumbing and look for potential issues.
Despite the huge amount of information available for free on the internet, in books, and in magazines, it is generally not wise to do plumbing yourself. Hiring a licensed plumber is your best bet when it comes to redesigning your bathroom and making the most of your existing plumbing system.
Hiring a Plumber for Your Bathroom Remodeling Project
A qualified plumbing contractor is the key to a successful bathroom makeover. Not only do they have the skills but they also have the tools, the equipment, and the experience necessary to handle your project from the beginning to the end.
Changing the design of your bathroom is necessary, especially if nothing has been done since the '70s or if there are a lot of molds. You will also move walls, replace the flooring, and add new bathroom appliances. But before doing all this, you should consult a plumber to know what could go wrong and how to prevent it.
A qualified plumber will help you layout the drains, water lines, and will also layout the toilets. Proper placement and installation are crucial when it comes to bathroom remodeling, and even if a plumber can't do the framing, he still has a key role to play when you start the remodeling process. Don't hesitate to ask us for our honest opinion or for some tips based on the unique challenges you're facing in your bathroom redo project.
With the right plumber by your side, you can be sure to avoid future damage if the job is done incompletely or incorrectly. We will make sure the room remains functional and comfy. Try our plumbing services the next time you need help with any of your home remodeling projects.
Renovating your Bathroom with the Right Plumbing Expert
Your bathroom is a special place in your home where you spend a lot of time and where being comfortable is necessary. Everyone likes to pamper oneself in a nice, warm bathroom with a nice bathtub or shower, and storage cabinets for all your towels, beauty products, and makeup.
Bathroom remodeling is not the easiest home improvement project to tackle. Apart from leaky pipes and drainage issues are only a fraction of the problems that can occur. If your budget is running low and you want to save money, you can still do the painting and tiling yourself but doing the plumbing part yourself should be avoided at all costs. We can install a new bathtub or upgrade your sink. Installing, repairing, or replacing bathroom fixtures is what we do best. Additionally, hiring a professional plumber will save you a lot of time, due to his experience and his deep knowledge of each product.