5 Tips for Hiring a Reliable Painting Contractor
by Guest Post on Sep 20, 2018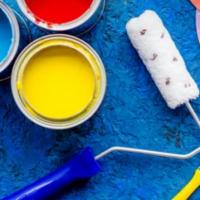 Owning a house comes with rewards and burdens. If there's one thing every homeowner can agree on, it's that maintenance can be intimidating. Keeping up with dirty filters, waning batteries, and leaky pipes can get tiring, especially if you're not sure who to call or how to start.
Painting the outside of your house is one of those daunting jobs, but a fresh coat of paint can do wonders for the resale value and general feel of your home. It's crucial to hire a reliable contractor for a job this big and visible. Whether you're looking to sell or spruce up, here are some guidelines for navigating a house painting job.
Get Some References
Using your friends and family as reliable sources is a great way to get a high-quality contractor. This step can also be completed via internet reviews through strangers, of course. But with a job as large as your house, you want to try to get as personal as possible. See if anyone you know liked (or disliked!) their painting contractor. Ask how long they took to finish the project, and if there were any setbacks. The most important piece to this step is checking out the reference yourself: while opinions are often useful, your standard may be different than your friends.
Have Multiple Options
Once you find a few contractors you think would be a good fit, call them. That's right: call more than one. When picking a contractor, it's important to get estimates from 3-4 different people. You should meet each one and notice how long they take to evaluate your house. You should feel comfortable with the person and the estimate they give you, but also confident in their licensing and crew. Be sure to ask about past wall painting projects or clients. This stage is meant to determine if your contractor is a good fit for you and vice versa. So be clear about what you want, and don't be afraid to ask questions. 
Do Your Research
Save yourself a potential future headache and check up on your potential contractor's licenses and insurance. Ask to see their painting license in your county. Make sure they have both workers' compensation and general liability insurance. Without workers' compensation, injured workers can potentially sue the homeowner. Moreover, general liability or contractor liability insurance covers damages to your house while the contractors are employed. If a contractor gives you an exceedingly low or quick estimate, it could mean they don't have the proper coverage or licensing. Be wary of any estimate that seems too good to be true -- it probably is. 
Dive Into Painting Details
For you, this isn't just painting an empty shell of a house: it's creating a home. Your painting contractor should recognize that. Make sure you feel like there is a dialogue between what you want and what your contractor thinks is best. You should be able to pick a color and finish that works for you. Moreover, your contractor should help you figure out the details like dealing with how much wallpaper is already inside the house. They should be interested in the trim color and architectural style of your home and want to explore options regarding color and technique. A good contractor will show that they are just as invested in the project as you are. 
Ask About Speed vs Quality
When working with a painting contractor, they should be able to provide efficient and high-quality services. You want someone who can get the job done well, but also within a reasonable time frame. This could save you plenty of time if you are remodeling the house or preparing to sell. From the day your painting contractors start, you should be able to see the progress and quality of work. Otherwise, have a conversation to make sure that your expectations are being met. This is one of the best ways to ensure that you have a quality painting contractor.
As with hiring any contractor, it's important to determine a payment plan and obtain a contract before handing over the cash. The ultimate key to hiring a reliable painting contractor? Get some references. Talk with multiple prospective hires. Negotiate and complete background research. Don't skimp on value. You want a contractor that will do a quality job in a reasonable time frame. If you get into the details about the work and hold them to a specific time frame, you will have a much better chance of finding a reliable painting contractor. By doing the groundwork upfront, you can find a company that will paint your house professionally.