Furnishing Your New Apartment on a Budget
by Guest on Mar 6, 2019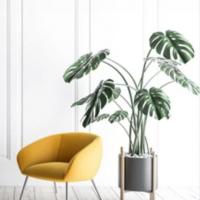 Moving into a new apartment is an exciting time. Perhaps it's the first time you'll be on your own, or you're moving into your first place with a partner. Whatever the reason, there's a lot to look forward to. However, moving into a new apartment isn't always cheap. As you start to gather the things you'll need for your new apartment – furniture, dishes, a television, etc – you quickly realize that the costs are adding up to more than you can afford. To help you out, here are a few tips for furnishing your new apartment while staying within your budget.
Decide What You Need
The first thing you should do is decide what you need. While it would be nice to get a brand new memory foam mattress for your bedroom, you might not necessarily need this. You can still get a good mattress without getting the most expensive model available.
In fact, according to this store, which provides discount home furniture, "When it comes to mattresses, more expensive does not always mean better. A good mattress store (or furniture store that sells mattresses like us) should have mattresses at a variety of price points."
So, think about what it is you need. Do you need the biggest television possible, or can you get something smaller? Do you need a couch that fits 10 people if you'll rarely have more than 4 people inside at any point? Take some time to think about what your needs are, then make a list. By going for necessities rather than luxuries, you can often cut off a huge chunk of your expenses.
Ask Friends and Family
Once you've decided on the items that you need to get, it's time to start looking around for affordable options. A great place to start is with your friends and family. A lot of people have old furniture lying around that they've been looking to get rid of and would happily either sell you the item at a discount or give it away for free. You might not get the best or newest furniture through this method, but you'll certainly stay within your budget. So, let your family and friends know that you'll be moving, and mention that you need some furniture. If they have anything to offer, they'll happily let you know.
Shop Local Garage and Yard Sales
Your next option is to explore local garage and yard sales. As people buy new furniture, they need to get rid of their old stuff. In many cases, this furniture is in decent condition, but for one reason or another, the family no longer wants it. As the saying goes, "One man's trash is another man's treasure."
When exploring garage and yard sales, be sure to give any prospective items a good inspection. You don't want to bring a new kitchen table home only to find that it's being held together by duct tape. Check everything out and ask some important questions of the owners – such as, do they smoke, has the item has been damaged, and why they're getting rid of it. If everything checks out, you can move on to haggling for a good price (or just pay the sticker price). Getting furniture through garage and yard sales carries some risk, but if you're careful, you can come away with some great deals.
Look Through Online Local Marketplaces
Nowadays, garage and yard sales are a little less popular. This is because many people are choosing to sell their items through local groups. If you're struggling to find something, try looking for one of these local online marketplaces. For example, there may be a Facebook group dedicated to selling and buying used items in your area. Or, you can look through ads on a site like Craigslist to find used furniture for sale. Just like garage and yard sales, you need to be careful, but you may just find an amazing piece at an affordable price that will allow you to transform your room.
Discount Furniture Stores
Your last option is to try discount furniture stores. Many stores sell great furniture at a discounted price, and chances are there's one in your area. Find a store like this in your area, then spend the day walking around. Go there knowing what your budget is, and exactly which pieces you are looking for. The prices will likely be a little higher than if you bought the piece through a yard sale, but you're also guaranteed to get something that is in good shape. Discount furniture stores are perfect for people who are just moving into their first apartment, so set some time aside to visit one near you.
Keep Your Options Open
You don't need to furnish your entire apartment from a luxury furniture store. There are plenty of ways to get great pieces at affordable prices if you're willing to hunt around. So, take some time to explore all your options and see what's out there. You should end up pleasantly surprised at what you can find, and how you're able to afford it all.