6 Ways to Save Money on Your Home Heating System for This Winter
by Guest Post on Dec 20, 2017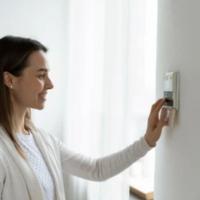 With winters approaching, the burden on your bills is going to increase manifold. But does it actually have to be this way?
Not this year. Because this time, you are going to take a tour around your house and find the areas where you can put some effort to reduce the pressure on your heating system. This would be some manual work that you are going to do and some smart work also may be a little chunk of investment too would go in but the end result would be reduced power bills and more savings for better enjoyment of the season.
So, let us see what these ways could be:
1. You Have to Get Your House Insulated Properly
The best way to reduce power bills is by properly insulating your house. So, before the winter approaches, you have need to prepare yourself with shielding insulation. For that, you can even hire a professional who will set in things once and for all, and trust me that would be an investment you would not regret. It reduces the heat transfer considerably and does not let the heat if the houses escape in winters.
So, if you are looking for the best ways to winter-proof your house then make sure it is insulated properly.
2. Have A Smart Thermostat Installed
You cannot rely on any thermostat that runs the heating system at the same temperature all day long.
See, it is like for a good eight hours of the day you are out of the home I suppose, so what is the point giving heat to your space then. So, you need to lower the temperature then and have it programmed to heat again by the time you reach home. Similarly, you do not need the heating of these systems when you are in hankering for the warmth of your quilt in the bed.
3. Check Your Space for Any Leakages
Check the areas which cause the cooling of the space. For instance, your traditional windows could be one such area and if you go for a double paned window, it would conduct heat perfectly for the house. This way you will be spending less on these heating systems.
Likewise, keep a check on your weather-stripping too. You do it for good but if they are worn and torn they will backfire and even cost you negatively. So, keep on replacing them once in a while to keep the inner heat intact.
4. Make the Best of The Daylight
Could any heat be better than the natural sunlight?
Not actually….!!
And guess what it is the only cost free method of heating. All you have to do is open all the doors and windows during daytime to let the natural heat inside.
This will warm up the house to many degrees and would not cost you a single penny.
5. Have an Annual Maintenance Check Done
Electrical equipment has so many components and fittings that if any of them is worn out, it will affect the running of the entire system. So, at your level, you can check them regularly- the wires if any have blackened, the ducts if they are clean or not, the fitting all in position or not and so on.
It is great if you could do all of that on your own and if not you can call for a professional who will do a nominal maintenance check and replace the worn out parts to make your system run smoothly to bring down power consumption and so the energy bills.
6. Use Portable Heaters, Furnaces and Built a Fire Place
The central heating furnace is not the only option to warm up your space. There are other options also that could act your savior during this time of the year.
Naming a few of them you could buy a portable heater for each room which runs on much less power as compared to the central heating systems and can be easily programmed and turned off as per the needs. You can also use blowers and have a fireplace built. These things warm up the house with the same intensity but cost much less than the smart modern ways of heating.