5 Easy DIY Steps to Fix Common Air Condition Problems
by James Cummings on Dec 14, 2017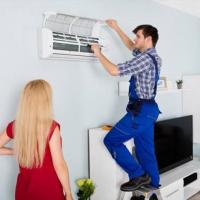 It can be quite frustrating to have your AC break when the weather is hot. And then you either have to endure the heat or call a repairperson.
Repairing an air conditioner can be a bit expensive depending on the fault or if there is a need to replace parts. But before you grab your phone, there are simple steps you can take to see if you can fix the problem on your own without professional help.
Most times, your AC can shut down for the simplest of reasons, and performing the following quick checks will help you determine if it is something you can fix or if you need to call a certified air condition technician.
Perform an electrical check
If your air condition unit won't come on at all, then the first thing you should do is to check your electrical power. Of course, you will know if there is a power outage in your area, so we would eliminate that and head straight to the next possible culprit.
Check your circuit breaker to be certain that has not tripped. You can tell if it has tripped on the switch or toggle will be in the off position. If the breaker is the problem, then reset it and try to power your AC on again.
If the AC comes on but the breaker trips again, then you have an electrical problem on your hands and you need to get hold of an electrician. Another hint that points at a faulty breaker is if other appliances on the same breaker do not power on.
Examine your thermostat
If your AC is powered on but emits hot air instead of cold, then take a quick look at your thermostat. Maybe it got set to heat and not cool by accident. Some thermostats are battery powered so it could be that what you need is to replace the batteries.
You need to also check the settings. If your thermostat is set at the fan, then it won't cool your home as expected. Make sure you set your thermostat to a temperature that is lower than the room temperature.
If your thermostat is alright but your home is not as cool as it should be, then you should check the outside temperature. If the temperature outside is extremely hot, your AC may not be able to cool your home as it should. It doesn't mean it is broken, although you might need a technician to supplement the AC fans.
Check the air filters
You will find the air filters when you open the small cover that is on the face of the AC. If the air filter is dirty or dusty, then the unit will not be able to circulate cool air properly. If you discover that your air filters are dirty, then you can change them. A dirty or clogged air filter can cause your unit to ice up and this will reduce its efficiency.
If you cannot find replacement filters, then a snap cleaning will do for the moment. Use a soft cloth, clean water, and detergent to gently wash the dirt and dust off the filters, and then leave them somewhere safe to dry before replacing them. If the problem was the air filters, you will notice a change in your room temperature.
Check the unit itself
A lot of minor faults can affect the proper flow of air in your AC unit. If your unit is iced up, then you need to melt the ice before it can work properly. Simply switch off the unit for a while so that the ice can melt off on its own or let the unit run but with the thermostat set at the fan so that the ice melts quickly.
If you check the AC drain line and pan and there is water in it, then there are chances there's a clog somewhere in the drain line. If you are feeling adventurous at this point, you can disconnect the drain pipe to check for blockages inside the pipe and then connect it back.
Sometimes the air vents on the face of the AC are mucked up and covered up accidentally. Check to see that the vent is flipped right otherwise your AC will be working but not cooling your room as the air cannot come out of the vents.
The outside compressor should also be checked for debris or obstruction. The outside unit needs at least 3 feet of free space for free flow of air into the unit.
Maybe it needs a bit of cleaning
Sometimes what your AC unit needs is just a bit of cleaning. Apart from the filters, there are other parts of the AC unit that are open to dust and dirt and this could affect the proper functioning of the unit. The blades on the outside of the unit need to be gently cleaned and any debris in the unit removed. Be careful when cleaning the blades and condenser fins to avoid snapping them as some models are easy to bend and break.
Before you even begin to clean your AC unit, make sure it is completely switched off to avoid electric shock. It is a good idea to remove the plug completely from the power source for better safety.
These DIY steps are what you can try if you notice any slight malfunction or underperformance from your AC. These can save you a bit of money, especially if any one of the steps happens to solve the problem.
Of course,  there are some cases that only a competent and professional AC repair service can fix and if you have tried all the steps above without noticeable change, then you should definitely call one to have a look at your unit.
If you finally get your AC working, make sure to always keep it clean, well maintained, and the surroundings free from debris and obstruction so that you can always enjoy a cool temperature in your home.